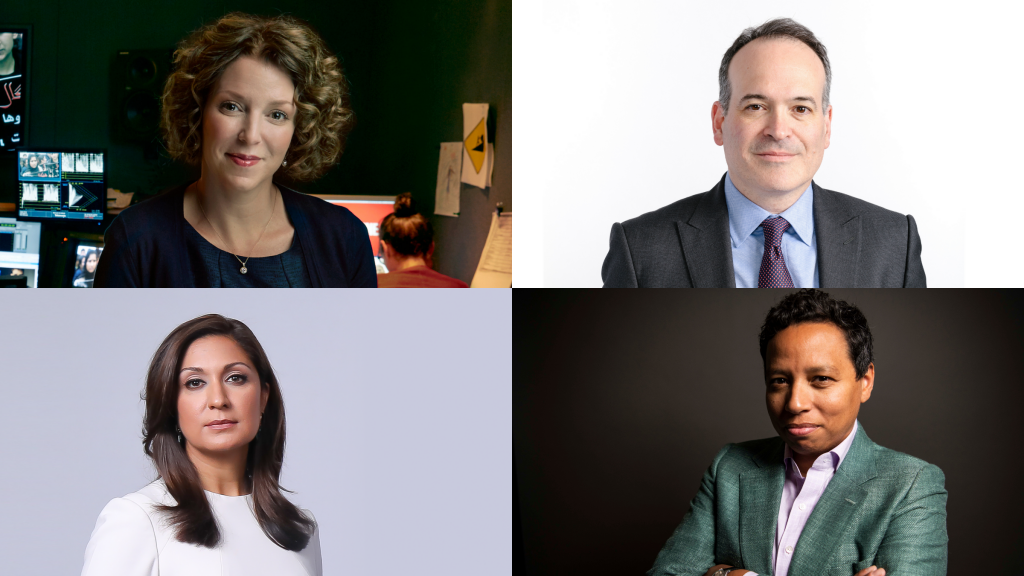 Raney Aronson-Rath, Matt Murray, Amna Nawaz and Lydia Polgreen appointed to Livingston Judging Panels
Wallace House welcomes the addition of Raney Aronson-Rath, Matt Murray, Amna Nawaz and Lydia Polgreen to the Livingston Awards judging panels. They will join our long-serving regional and national judges in identifying the best reporting and storytelling by journalists under the age of 35.
Aronson-Rath, executive producer of the PBS investigative documentary program "Frontline," and former Livingston Awards regional judge will move to the national judging panel. Murray, editor-in-chief of The Wall Street Journal, and Polgreen, head of programming for Gimlet, will also join the national judging panel. This esteemed group of judges includes Ken Auletta, media and communications writer, The New Yorker; Dean Baquet, executive editor, The New York Times; John Harris, co-founder, Politico; Clarence Page, syndicated columnist; Anna Quindlen, author; María Elena Salinas, contributor, CBS News; Bret Stephens, op-ed columnist, The New York Times and Kara Swisher executive producer, Code Conference and host of the podcasts "Sway" and "Pivot."
Nawaz, senior national correspondent for PBS "NewsHour" will join the regional judging panel. The group of accomplished journalists includes Molly Ball, senior political reporter, Time; Stella Chavez, education reporter KERA public radio (Dallas); Chris Davis, executive editor and vice-president of investigations, Gannet; David Greene, former host, "Morning Edition," NPR; Stephen Henderson, host, WDET, public radio Detroit and DPTV, Detroit Public Television and Shirley Leung, columnist and associate editor, The Boston Globe.
"The Livingston Awards highlight excellence across all forms of journalism. Raney, Lydia, Matt and Amna bring exceptional combined experience across visual, audio, print, broadcast, digital, daily and longform investigative journalism," said Livingston Awards Director, Lynette Clemetson. "Their work with young reporters applying high standards to new storytelling approaches will add valuable insights to our already robust judging ranks."
Aronson-Rath is the executive producer of "Frontline," PBS' flagship investigative journalism series, and is a leading voice on the future of journalism. She oversees the program's acclaimed investigative reporting on-air and online and directs the series' editorial vision. Appointed to the position in May 2015, she joined "Frontline" in 2001. Aronson-Rath has been with the Livingston Awards since 2005 serving as a regional judge.
Murray is editor-in-chief of The Wall Street Journal and Dow Jones Newswires, responsible for all global newsgathering and editorial operations. He previously served as executive editor since 2017, and had been deputy editor-in-chief since 2013. He joined Dow Jones & Company in 1994 as a reporter for the Pittsburgh bureau.
Polgreen is head of content at Gimlet, a podcast studio at Spotify. Prior to that, she was editor in chief of HuffPost following a 15-year career at The New York Times that included roles as associate masthead editor, deputy international editor, South Africa bureau chief, correspondent for the New Delhi bureau and chief of the West Africa bureau. Polgreen received the 2009 Livingston Award for international reporting for her series, "The Spoils."
Nawaz serves as senior national correspondent and primary substitute anchor for PBS "NewsHour." Previously she was an anchor and correspondent at ABC News and served as a foreign correspondent at NBC News, reporting from Pakistan, Afghanistan, Syria, Turkey and the broader region. She is also the founder and former managing editor of NBC's Asian America platform, built to elevate the voices of America's fastest-growing population.
"It is especially meaningful that Lydia and Raney assume these new roles as long-standing members of the Livingston community – Lydia as a former winner for international reporting, and Raney as a long-serving regional judge. As their own careers as executives and change-makers in journalism have grown, they have maintained their commitment to the mission of the Livingston Awards, to recognize and lift up the next generation of leaders."
Now Accepting Entries
The Livingston Awards are now accepting entries for work published in 2020. The entry deadline is February 1, 2021.
---
About the Livingston Awards
The Livingston Awards for Young Journalists are the most prestigious honor for professional journalists under the age of 35 and are the largest all-media, general reporting prizes in American journalism. Entries from print, online, visual and audio storytelling are judged against one another, as technology blurs distinctions between traditional platforms. The $10,000 prizes are awarded annually for local, national and international reporting. The Livingston Awards are a program of Wallace House at the University of Michigan, home to the Knight-Wallace Fellowships for Journalists and the Wallace House Presents event series.