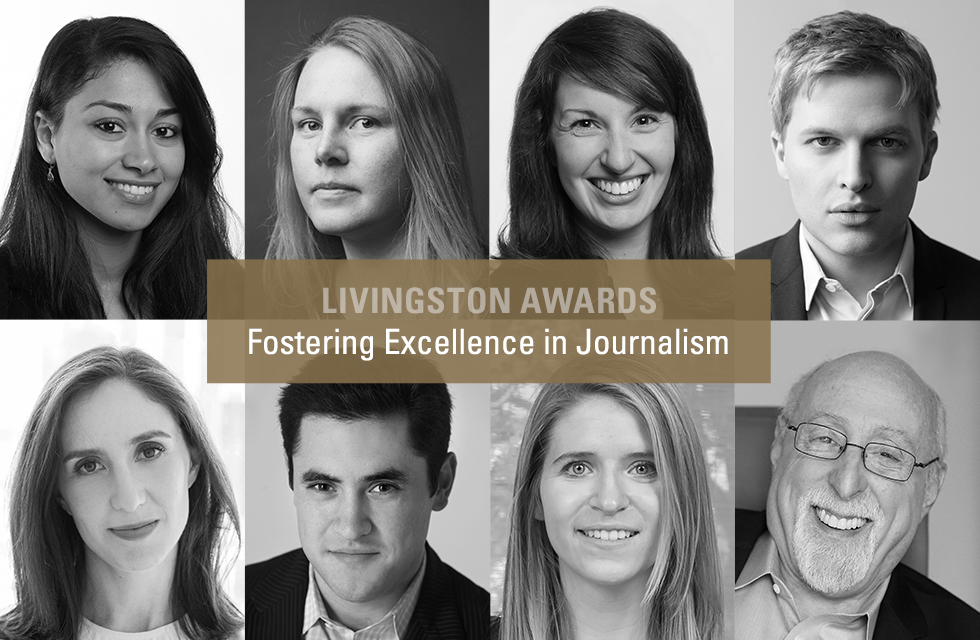 The Livingston Awards for Young Journalists were awarded today to stories that exemplified the best in investigative reporting and narrative storytelling across platforms.  The winners included a podcast exploring a traffic stop that ended in a fatal police shooting streamed on social media, print exposés detailing explosive sexual assault allegations against Bill O'Reilly and Harvey Weinstein, and an investigation into a U.S. military operation that killed Somali civilians. The awards recognize the best journalism by professionals under age 35 across of all platforms, including text, visual and audio storytelling.
The $10,000 prizes honor outstanding achievement in local, national and international reporting. In this exceptional year, the Livingston judges awarded two winners in the national reporting category for stories that led to the #MeToo movement and a national shift in recognition of sexual harassment, assault and abuse of power.
The Livingston Awards also honored Walt Mossberg with the Richard M. Clurman Award for mentoring. The $5,000 prize is given each year to an experienced journalist who has played an active role in guiding and nurturing the careers of young reporters. The prize is named for the late Richard M. Clurman, former chief of correspondents for Time-Life News Service and architect of the Livingston Awards.
Livingston judges María Elena Salinas of Investigation Discovery, Ken Auletta of The New Yorker, Dean Baquet of The New York Times, John Harris of Politico and Kara Swisher of Recode introduced the winners today at a luncheon in New York City.
"These winners represent the power of fearless reporting across a range of journalistic forms," said Livingston Awards Director Lynette Clemetson. "With reporting that catapulted issues to national prominence and unpacked complex topics through long-form exploration, this year's winners demonstrate the social and political impact of ambitious journalism."
The 2018 winners for work published in 2017 are:
Local Reporting
Riham Feshir, Meg Martin and Tracy Mumford of Minnesota Public Radio News, for the podcast series, "74 Seconds," a deconstruction of the July 2016 shooting death of Philando Castile by police officer Jeronimo Yanez and coverage of the ensuing trial. Through meticulous and balanced reporting, the series put a human face on both the victim and the officer who pulled the trigger.
"Listeners told us that they came away with a better understanding of the criminal justice system, police training, gun rights and race," said Feshir. "They said they were more empathetic and engaged citizens after listening to our stories."
National Reporting
Ronan Farrow of The New Yorker, for "Investigation of Harvey Weinstein," a groundbreaking exposé on the alleged assault and rape by Hollywood powerbroker, Harvey Weinstein, and the sprawling system of spies the producer employed to keep the stories silent. Farrow's investigation unleashed the #MeToo movement and precipitated the criminal investigation and arrest of Weinstein.
"Helping to share the stories of survivors of sexual harassment and assault has been deeply rewarding. These women did a great service for survivors everywhere," Farrow said. "What they did – and continue to do – is incredibly brave."
National Reporting
Emily Steel and Michael S. Schmidt of The New York Times, for "O'Reilly Thrives, Then Falls, as Settlements Add Up," an investigation uncovering $45 million in sexual harassment settlements involving Fox News' Bill O'Reilly. Steel and Schmidt's stories ignited media outlets everywhere to report on allegations of sexual misconduct and abuse against powerful men and emboldened a progression of women to come forward and tell their own stories of sexual abuse.
"It's just been so amazing to see how much the world has started to change," said Steel. "Article after article, woman after woman found the courage to share their stories and the world listened."
International Reporting
Christina Goldbaum, of The Daily Beast, for "Strong Evidence that U.S. Special Operations Forces Massacred Civilians in Somalia," an on-the-ground investigation of a botched U.S. military raid that is alleged to have resulted in the deaths of 10 Somali civilians, including at least one child. While stories of conflict in Africa fell off the radars of many American news outlets, Goldberg was there to shine a light on growing U.S. military engagement and counter-terrorism efforts in the region.
"Reporting this story demonstrated to me in real world terms how the perpetrators of violent crimes will take any measures to protect themselves, and that justice for victims of those crimes is both elusive and a feat worth striving towards, no matter how difficult attaining it can be," said Goldbaum, whose work was supported by the Fund for Investigative Journalism.
Mentoring Award
Walt Mossberg was honored with the Richard M. Clurman Award for his commitment to fostering the careers of numerous technology reporters. Mossberg is the creator of the Personal Technology column in The Wall Street Journal and co-founder of AllThingsD, Recode and the Code Conference. In a video tribute at the luncheon, several technology reporters spoke about Mossberg's influence on their careers.  View video>>
In addition to Salinas, Auletta, Baquet and Swisher, the Livingston judging panel includes Christiane Amanpour of CNNi and PBS; Clarence Page of the Chicago Tribune; Anna Quindlen, author; and Bret Stephens of The New York Times.
Funded by the John S. and James L. Knight Foundation and the University of Michigan to support the vital role of a free and independent press, the awards bolster the work of young reporters, create the next generation of journalism leaders and advance civic engagement around powerful storytelling. Other sponsors include the Indian Trial Charitable Foundation, the Mollie Parnis Livingston Foundation, Christiane Amanpour and Dr. Gil Omenn and Martha Darling.