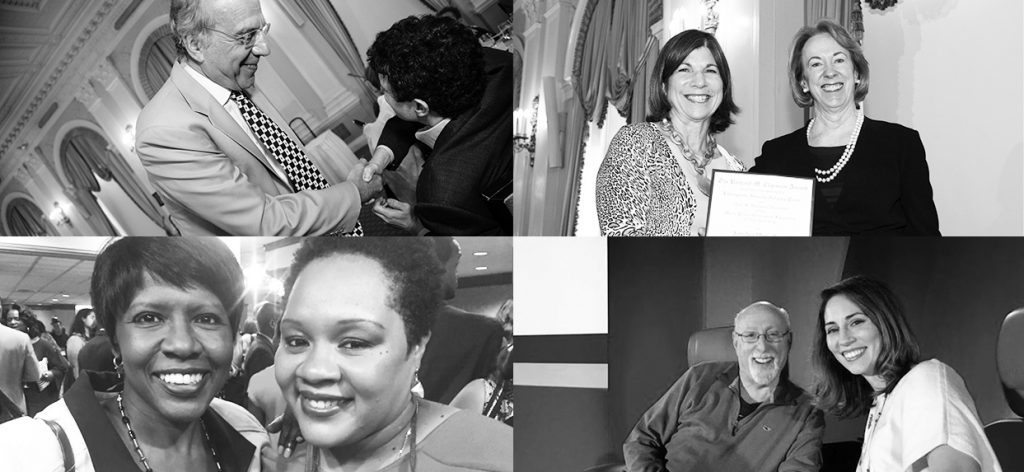 Nominate Your Journalism Mentor
Was there an on-the-job mentor who made a difference in your journalism career and the careers of other journalists? Introduce us to your mentor and enter your nomination for the Clurman Award here.
Nominations for the 2022 Clurman Award are now open and will close on March 1, 2022.
About the Clurman Award
The Livingston Awards, a program honoring journalists under the age of 35, recognizes that every young journalist succeeds with the guidance and support of an experienced journalist. The Richard M. Clurman Award honors these on-the-job mentors who stand out for nurturing, critiquing and inspiring young journalists. Through their commitment, these individuals make a vital contribution to fostering excellence in journalism. The Clurman Award stands alongside the Livingston Awards in bolstering the work of young journalists and developing the next generation of reporters and newsroom leaders. Named for Richard M. Clurman, an editor at Time from 1948 to 1972 and architect of the Livingston Awards program, the Clurman Award is presented each June at the annual Livingston Awards ceremony.
---
2021 Clurman Award Recipient
This year, the Livingston Awards honored Susan Chira with the 2021 Richard M. Clurman Award for her newsroom commitment to counseling, nuturing and inspriring young journalists. Chira is the editor-in-chief of The Marshall Project and former deputy executive editor of The New York Times. Current and former colleagues of Chira's praise her warm and compassionate encouragement for generations of young journalists.
"Susan inspired me to follow in her footsteps and become a leader, a mentor, a coach and an editor. Looking back now I know that the most important work of my life is not the swashbuckling exploits that I enjoyed as a young foreign correspondent. Susan inspired and championed that work for sure, But more importantly, she inspired me to emulate her leadership and to be a Susan Chira for everyone who wasn't lucky enough to work with the real Susan Chira." – Lydia Polgreen, Livingston Awards national judge
Past Award Recipients
Since the award's inception, Clurman Award recipients have included journalists such as Tom Brokaw, Judy Woodruff, Gwen Ifill, and Paul Steiger, to name a few. Learn more about past winners here.
---
The Richard M. Clurman Legacy
In the life of every successful journalist, there is a special colleague who goes above and beyond to advise, critique, applaud and inspire. Richard M. Clurman was such a person. His career at Time included a post as chief of correspondents and head of the Time-Life News Service. Throughout the 1960s, Clurman oversaw a staff of 105 reporters stationed around the globe.
Always passionate about elevating the work of young journalists, Clurman helped Mollie Parnis Livingston to envision and establish the Livingston Awards and became a founding member of the Mollie Parnis Livingston Foundation's board. Following Clurman's passing in 1996, the Livingston Awards board and panel of judges elected to memorialize his legacy, creating a new award for journalists in his honor: the Richard M. Clurman Award for mentors in journalism.
---