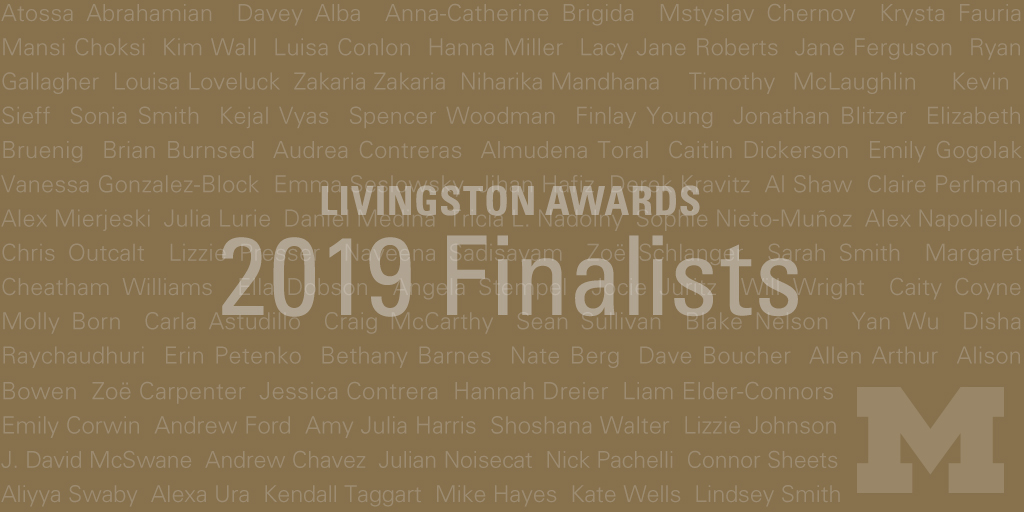 The Livingston Awards for Young Journalists and the University of Michigan announced today the 2019 finalists in local, national and international reporting. The awards honor the best reporting and storytelling by journalists under the age of 35 across all forms of journalism. The 55 finalist selections were chosen from more than 400 entries.
The national judges will introduce the winners on June 4, 2019, at the annual Livingston Awards luncheon in New York City.
Funded by the John S. and James L. Knight Foundation and the University of Michigan to support the vital role of a free and independent press, the awards bolster the work of young reporters, create the next generation of journalism leaders and mentors, and advance civic engagement around powerful storytelling. Other sponsors include the Indian Trail Charitable Foundation, the Mollie Parnis Livingston Foundation, Christiane Amanpour and Dr. Gil Omenn and Martha Darling.
"Each year the Livingston Awards finalists remind us of the essential role journalism plays not simply in documenting facts, but in helping us all to understand, question and experience the complex issues of our times," said Wallace House Director Lynette Clemetson. "Through excellence in reporting and creativity in storytelling these finalists moved the narrative on stories dominating the headlines and those that were largely unknown."
The Livingston Awards regional judges read all qualifying entries to select the finalists in local, national and international reporting. The regional judging panel includes: Raney Aronson-Rath, executive producer, "Frontline," PBS; Molly Ball, national political correspondent, Time; Stella Chávez, education reporter, KERA Public Radio (Dallas); Chris Davis, Vice-President of Investigative Journalism, Gannett; David Greene, host, "Morning Edition," NPR; Stephen Henderson, host, "Detroit Today," WDET; and Shirley Leung, interim editorial page editor, The Boston Globe.
The Livingston Awards national judges review all finalist entries and select the winners. The national judges are Christiane Amanpour, chief international correspondent, CNNi and host, "Amanpour on PBS"; Ken Auletta, author and media and communications writer, The New Yorker; Dean Baquet, executive editor, The New York Times; John Harris, co-founder, Politico; Clarence Page, Chicago Tribune; Anna Quindlen, author; María Elena Salinas, independent journalist and producer; Bret Stephens, op-ed columnist, The New York Times; and Kara Swisher, executive editor, Recode
Following are the 2019 finalists, for work produced in 2018. Links to their work here.
Local Reporting
Carla Astudillo

,

Craig McCarthy

,

Sean Sullivan

,

Blake Nelson

,

Yan Wu

,

Disha Raychaudhuri

and

Erin Petenko

, NJ Advance Media (NJ.com and The Star-Ledger)

Bethany Barnes

, The Oregonian/OregonLive

Nate Berg

, Curbed

Dave Boucher

and

Allen Arthur

, The Marshall Project and USA TODAY NETWORK-Tennessee

Alison Bowen

, Chicago Tribune

Zoë Carpenter

, The Nation

Jessica Contrera

, The Washington Post

Hannah Dreier

, ProPublica in partnership with New York magazine, "This American Life," and The New York Times Magazine

Liam Elder-Connors

and

Emily Corwin

, Vermont Public Radio

Andrew Ford

, Asbury Park Press

Amy Julia Harris

and

Shoshana Walter

, Reveal from The Center for Investigative Reporting

Lizzie Johnson

, San Francisco Chronicle

J. David McSwane

and

Andrew Chavez

, The Dallas Morning News

Julian Noisecat

, High Country News

Nick Pachelli

, San Francisco Magazine

Connor Sheets

, Alabama Media Group (The Birmingham News)

Aliyya Swaby

and

Alexa Ura

, The Texas Tribune

Kendall Taggart

and

Mike Hayes

, BuzzFeed News

Kate Wells

and

Lindsey Smith

, Michigan Radio
 National Reporting
Jonathan Blitzer, The New Yorker
Elizabeth Bruenig, The Washington Post
Brian Burnsed, Sports Illustrated
Andrea Patiño Contreras and Almudena Toral, Univision News Digital in collaboration with the Knight Foundation and The Intercept
Caitlin Dickerson, The New York Times
Emily Gogolak, Politico Magazine
Vanessa Gonzalez-Block and Emma Seslowsky, CNN
Jihan Hafiz, "Matter of Fact with Soledad O'Brien," Hearst Media
Derek Kravitz, Al Shaw, Claire Perlman, and Alex Mierjeski, ProPublica
Julia Lurie, Mother Jones
Daniel Medina, The Intercept
Tricia L. Nadolny, The Philadelphia Inquirer
Sophie Nieto-Muñoz and Alex Napoliello, NJ Advance Media (NJ.com and The Star-Ledger)
Chris Outcalt, The Atavist Magazine
Lizzie Presser, The California Sunday Magazine in partnership with the Investigative Fund at The Nation Institute
Naveena Sadasivam and Zoë Schlanger, Quartz and Texas Observer
Sarah Smith, Fort Worth Star-Telegram
Margaret Cheatham Williams, Ella Dobson, Angela Stempel and Jocie Juritz, The New York Times
Will Wright, Caity Coyne and Molly Born, The GroundTruth Project / Report for America in partnership with Lexington Herald-Leader, Charleston Gazette-Mail and West Virginia Public Broadcasting
 International Reporting
Atossa Abrahamian

, The New York Times

Davey Alba

, BuzzFeed News

Anna-Catherine Brigida

, World Politics Review

Mstyslav Chernov

and

Krysta Fauria

, The Associated Press

Mansi Choksi

and

Kim Wall

, Longreads

Luisa Conlon

,

Hanna Miller

and

Lacy Jane Roberts

, The New York Times Op-Docs in partnership with the Pulitzer Center on Crisis Reporting

Jane Ferguson

, PBS NewsHour

Ryan Gallagher

, The Intercept

Louisa Loveluck

and

Zakaria Zakaria

, The Washington Post

Niharika Mandhana

, The Wall Street Journal

Timothy McLaughlin

, Wired in partnership with the Pulitzer Center

Kevin Sieff

, The Washington Post

Sonia Smith

, Texas Monthly

Kejal Vyas

, The Wall Street Journal

Spencer Woodman

, International Consortium of Investigative Journalists

Finlay Young

, ProPublica in partnership with Time