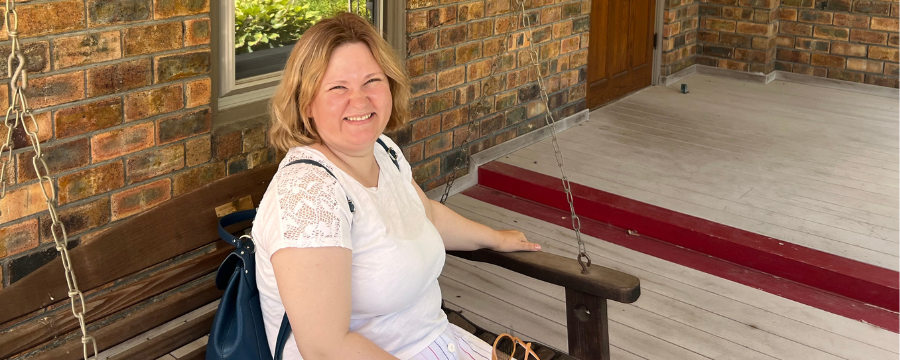 Supporting Journalists at Risk
After facing death threats for her reporting on human rights abuses in Chechnya and Russia, Elena Milashina, an award-winning Russian journalist and 2010 Knight-Wallace Fellow returned to the University of Michigan. Milashina is an investigative journalist for Novaya Gazeta, Russia's last remaining independent newspaper before it ceased publication in March in response to threats from the Putin regime following Russia's invasion of Ukraine.
Sponsored by Wallace House, Milashina joins the International Institute's Weiser Center for Emerging Democracies as the inaugural WCED Freedoms Under Fire Residency Fellow. The new fellowship brings prominent and courageous activists, journalists, and scholars from across the globe to WCED as a way both of evading persecution in their home countries and sharing their unique personal insights with the U-M community and broader public on how dictatorships and eroding democracies repress vital individual freedoms.
"Wallace House is committed to advancing the freedom and safety of journalists around the world. When we can provide for the safety of one journalist, we are safeguarding their journalism, their voice and the public's right to the truth," said Lynette Clemetson, director of Wallace House.
In February of this year, Milashina went into hiding after numerous threats from Kremlin-backed Chechen leaders and continued to report on human rights abuses from an undisclosed location. Since 2000, Novaya Gazeta, whose editor-in-chief, Dmitry Muratov, won the 2021 Nobel Peace Prize, has seen six of its journalists and contributors killed.
"I am very grateful to Wallace House and the Weiser Center for Emerging Democracies for this opportunity," said Milashina. "The University of Michigan for me is not just a safe place to continue my work. Without exaggeration, this is one of the best places to exchange experiences and learn things, which very often a journalist simply does not have time for."
Milashina's reporting has uncovered enforced disappearances, arbitrary detentions, extrajudicial executions, torture, and persecution of relatives of alleged insurgents in Chechnya and beyond. She came to the university in September 2009 as a Knight-Wallace Fellow, where she studied ethnic and religious conflicts in the North Caucasus. Following her fellowship, she exposed Chechnya's crackdown on gay men, which caused Muslim clerics in Chechnya to deliver a sermon calling for "retribution" against her and other journalists. She is the recipient of Human Rights Watch's Alison Des Forges Award for Extraordinary Activism and the International Women of Courage Award.
"Journalists are in the crosshairs of democratic backsliding all around the world, not least in Putin's Russia," said Dan Slater, director of WCED. "Our new Freedoms Under Fire fellowship is designed to invite some of the world's most courageous and principled opponents of authoritarian practices to Michigan's campus. Elena Milashina is an ideal first recipient of this fellowship, and we are privileged to host her. Elena's remarkable story should remind us all that Putin's victims reside in Russia as well as Ukraine, and that the global struggle for full democratic freedoms must never be limited or defined by national boundaries."
Last March, Milashina spoke with us on camera from an undisclosed location and discussed the demise of a free press under Putin's regime and Russia's invasion of Ukraine. Then as now, she remains determined to continue championing the truth. As a WCED Freedoms Under Fire Residency Fellow, Milashina will give guest lectures, engage with students and faculty, and continue her writing to report the truth about what is happening in Ukraine, Russia, and the region.
---
Wallace House Center for Journalists at the University of Michigan is committed to fostering excellence in journalism. We are home to programs that recognize, sustain and elevate the careers of journalists to address the challenges of journalism today, foster civic engagement and uphold the role of a free press in a democratic society. We believe in the fundamental mission of journalism to document, interpret, analyze and investigate the forces shaping society.
The Weiser Center for Emerging Democracies at the University of Michigan's International Institute promotes scholarship to better understand the conditions and policies fostering transformations from authoritarian rule to democracy. WCED's mission will evolve as the world changes, but its core commitment to understanding the conditions for democracy and freedom will remain the guiding principle.