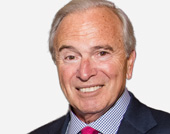 Author, Media and Communications Writer, The New Yorker
National Judge
Ken Auletta is an author and media writer who has written the "Annals of Communications" profiles and essays for The New Yorker since 1992. His articles first appeared in The New Yorker in 1978. The author of twelve books, his most recent book, "Frenemies: The Epic Disruption of the Ad Business (and Everything Else)," was published in 2018. Having joined the judging panel in 1982, Auletta is the longest-serving Livingston judge. Auletta became a Livingston Awards judge in 1984.
Following his best-selling book, "Three Blind Mice: How the TV Networks Lost Their Way," Auletta's reporting on the media and communications for The New Yorker set a new, high standard for media analysis that encompasses both journalism and the companies for whom journalists often work. Ranking him as America's premier media critic, the Columbia Journalism Review concluded, "No other reporter has covered the new communications revolution as thoroughly."
Auletta is well known for his books, which bring scholarly research alive with journalistic immediacy. "The Streets Were Paved with Gold," about New York City's near fiscal collapse in 1975, was followed by "The Underclass," a phrase that has since entered our common vocabulary. His best-selling "Greed and Glory on Wall Street," which chronicled the fall of Lehman Brothers, captured a decade of greed when it was published in 1985, long before such observations were common. "World War 3.0: Microsoft and Its Enemies," was published in early 2001. In their reviews, The Washington Post described him as "our modern Liebling," and U.S. News & World Report declared, "Backstory…confirms his place as dean of U.S. media critics." Auletta received the 2002 National Magazine Award in profile writing for "The Lost Tycoon," a portrait of Ted Turner in The New Yorker.
He graduated from the State University of New York at Oswego in 1963 and received an M.A. in political science and public administration from the Maxwell School at Syracuse University. The State University of New York awarded him an honorary Doctor of Letters in 1990. Auletta was made a Literary Lion by the New York Public Library and recently received a Lifetime Achievement Award by the Society of Silurians.