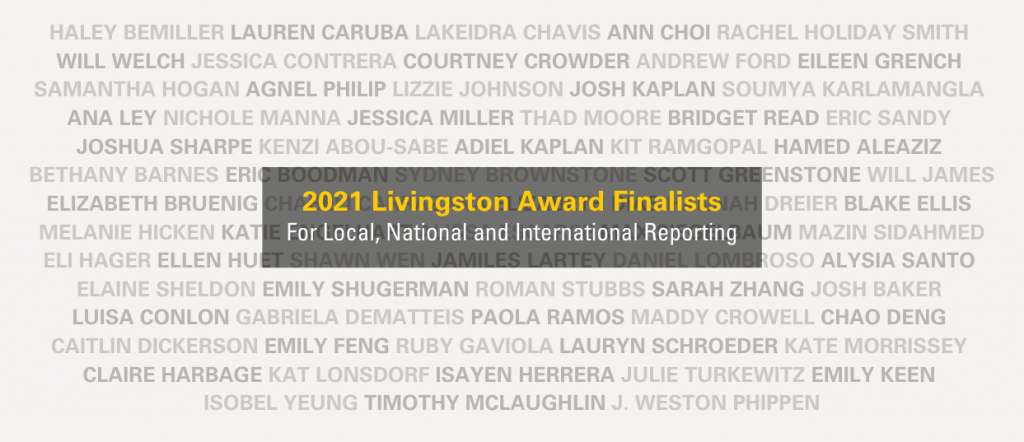 Wallace House and the University of Michigan announced today the 2021 Livingston Awards finalists in local, national and international reporting. The awards support young journalists and honor the best reporting and storytelling by journalists under the age of 35 across all forms of journalism. The 50 finalist selections were chosen from more than 500 entries for work released in 2020.
This year's Livingston Award winners will be announced at a virtual ceremony on June 10, 2021. Hosted by  Christiane Amanpour, former Livingston Award winner and judge, the event is open to everyone. Information and registration can be found here.  
"We are proud and honored to acknowledge and showcase the reporting of this year's Livingston Award finalists, who produced exceptional works of journalism despite the numerous intersecting challenges facing the nation today," said Wallace House Director Lynette Clemetson. "That we received more than 500 strong entries this year is testament to the conviction and dedication of young journalists to pursue stories that need to be told, especially in the most difficult times."
Celebrating its 40th year, the awards bolster the work of young reporters, create the next generation of journalism leaders and mentors, and advance civic engagement around powerful storytelling. The sponsors include the University of Michigan, Knight Foundation, the Indian Trail Charitable Foundation, the Mollie Parnis Livingston Foundation, Christiane Amanpour, the Fred and Judy Wilpon Foundation, and Dr. Gil Omenn and Martha Darling.
The Livingston Awards regional judges read all qualifying entries to select the finalists in local, national and international reporting. The regional judging panel includes Molly Ball, national political correspondent, Time; Stella Chávez, immigration and demographics reporter, KERA Public Radio (Dallas); Chris Davis, executive editor and Vice-President of Investigative Journalism, Gannett; David Greene, former host, "Morning Edition," NPR; Stephen Henderson, host, "Detroit Today," WDET; Shirley Leung, columnist and associate editor, The Boston Globe; and Amna Nawaz, senior national correspondent, PBS "NewsHour."
The Livingston Awards national judges review all finalist entries and select the winners. The national judges are Raney Aronson-Rath, executive producer, "Frontline,"; Ken Auletta, author and media and communications writer, The New Yorker; Dean Baquet, executive editor, The New York Times; John Harris, co-founder, Politico; Matt Murray, editor in chief, The Wall Street Journal; Clarence Page, syndicated columnist; Lydia Polgreen, head of content, Gimlet; Anna Quindlen, author; María Elena Salinas, contributor, CBS News; Bret Stephens, op-ed columnist, The New York Times; and Kara Swisher, executive producer, Code Conference and host of the podcasts "Sway" and "Pivot."
We present the 2021 Livingston Awards finalists and invite you to review their work here.
Local Reporting
Haley BeMiller,

Green Bay Press-Gazette

Lauren Caruba,

San Antonio Express-News

Lakeidra Chavis,

The Trace in partnership with The Chicago Sun-Times

Ann Choi, Rachel Holiday Smith and Will Welch, The City (NY, NY)
Jessica Contrera, The Washington Post
Courtney Crowder,

The Des Moines Register

Andrew Ford,

Asbury Park Press in partnership with ProPublica

Eileen Grench, The City (NY, NY)
Samantha Hogan and Agnel Philip,

The Maine Monitor and ProPublica with support from Report for America

Lizzie Johnson,

San Francisco Chronicle

Josh Kaplan,

DCist in partnership with Spotlight DC

Soumya Karlamangla, Los Angeles Times
Ana Ley,

The Virginian-Pilot

Nichole Manna,

Fort Worth Star-Telegram

Jessica Miller,

The Salt Lake Tribune

Thad Moore,

The Post and Courier (Charleston, S.C.)

Bridget Read, New York Magazine
Eric Sandy,

Cleveland Scene

Joshua Sharpe,

The Atlanta Journal-Constitution
 National Reporting
Kenzi Abou-Sabe, Adiel Kaplan and Kit Ramgopal,

NBC News Investigative Unit

Hamed Aleaziz, BuzzFeed News
Bethany Barnes, Tampa Bay Times
Eric Boodman, STAT
Sydney Brownstone, Scott Greenstone and Will James,

KNKX Public Radio and The Seattle Times

Elizabeth Bruenig, The New York Times
Chabeli Carrazana, The 19th
Elizabeth Dias, The New York Times
Hannah Dreier, The Washington Post
Blake Ellis and Melanie Hicken, CNN
Katie Engelhart,

The California Sunday Magazine

Alissa Escarce, Max Siegelbaum and Mazin Sidahmed,

Documented, Latino USA and Type Investigations

Eli Hager, The Marshall Project in partnership with The Atlantic
Ellen Huet and Shawn Wen,

Bloomberg News

Jamiles Lartey,

The Marshall Project

Daniel Lombroso,

The Atlantic

Alysia Santo and Elaine Sheldon,

The Marshall Project in partnership with FRONTLINE and America ReFramed on WORLD Channel

Emily Shugerman, The Daily Beast
Roman Stubbs, The Washington Post
Sarah Zhang, The Atlantic 
 International Reporting
Josh Baker, FRONTLINE
Luisa Conlon, Gabriela Dematteis and Paola Ramos, Vice News
Maddy Crowell,

Virginia Quarterly Review

Chao Deng,

The Wall Street Journal

Caitlin Dickerson, The New York Times
Emily Feng, NPR
Ruby Gaviola, Lauryn Schroeder and Kate Morrissey,

San Diego Union-Tribune

Claire Harbage and Kat Lonsdorf,

NPR in partnership with the John Alexander Project

Isayen Herrera and Julie Turkewitz, The New York Times
Emily Keen and Isobel Yeung, Vice News
Timothy McLaughlin, The Atlantic
J. Weston Phippen, POLITICO