On our second day in South Korea we toured Camp Humphreys, the newly constructed U.S. Army Garrison, 40 miles south of Seoul. The massive military encampment covers more than 3,000 acres and is very American, dotted with Subway sandwich shops and suburban looking homes.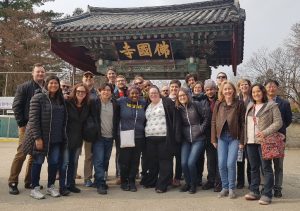 To balance out the day, I arranged for a very Korean dinner at a restaurant specializing in tofu. The restaurant had more tofu dishes than most Americans could imagine. The experience, simple for the average Korean, was exciting and a little overwhelming for our group. From the moment the first dish came out, I fielded many questions: "SJ, can you explain how you eat this food?" "What sauce should I use?" "Can I ask for a fork?" With a little explanation, everyone enjoyed the tofu delicacies, and I had a chance to enjoy my fellow Fellows discovering something new.
For three weeks before the trip, I was communicating with former Korean Fellows seeking advice on planning the itinerary. I was worried about making the right plans and choosing the right places to visit. There were disagreements, as I explained, "I don't want to show my Fellows the negative aspects of Korea." But one of the former Fellows corrected me. "They are all journalists. They can see everything, even the things we may want to hide." He was right. It was not just a trip; it was a journalism trip. I needed to present Korean society as it is, not as I wished it to be.
Our trip coincided with a historical moment as President Trump and North Korean leader Kim Jung-Un were meeting in Vietnam. The outcome would have significant political, economic and social implications for South Korea. In addition, the final day of our visit marked the 100th anniversary of the March 1st Movement, a national holiday commemorating Korea's fight for independence from Japan. It was important to help my fellow journalists understand the political tension still playing out in Northeast Asia.
Certainly we should explore Korea's economic rise, but we should also discuss corporate corruption and the negative impact of the Chaebol, the Korean term for powerful family-run conglomerates like Samsung, Hyundai and LG. While it would be fun to explore K-Pop and the growing influence of the Korean entertainment industry, it was important to discuss issues like gender discrimination, Korea's #MeToo Movement, and teen depression and suicide.
How could we accomplish it all in five days? In the end, we struck a balance. We saw the film "Mal-Mo-E" about efforts to save the Korean language during the Japanese occupation. We learned the complex, centuries old geopolitics of East Asia from Dr. Hahm Chaibong, president of the Asan Institute for Policy Studies. We examined the conflict between North and South Korea during a visit to the Joint Forces Naval Command complex.  And we were reminded of the familiar struggle to support independent journalism from two start-up media outlets, one of which has since announced its closure.
We also had fun. We peered down at the city from a dizzying observation deck near the top of the 123rd floor of the Lotte World Tower and stood with a crowd of screaming teenagers to watch
a live taping of a popular K-Pop TV show. We ate live octopus at Noryangjin Fish Market and relaxed at a Korean spa. We learned how to brew Makgeolli, traditional Korean rice wine, which will be ready to drink just in time for a visit from the class of 2020.
As the Fellows learned new things, I discovered new things while looking at my country through their experiences. I never paid attention to how tofu dishes are cooked because it is so familiar to me. Looking at Korean society while traveling with the Fellows, I realized stark generational differences between Koreans that I had never considered deeply before. I learned to look at Korea more objectively and this will certainly impact my work.
Traveling my country with the Knight-Wallace Fellows was an unforgettable experience. I still have many things that I am eager to show, and I hope that the program will return for years to come.
See you in Korea!
Seungjin Choi is a 2019 Knight-Wallace Fellow and Reporter, Maeil Business Newspaper (Seoul, South Korea).