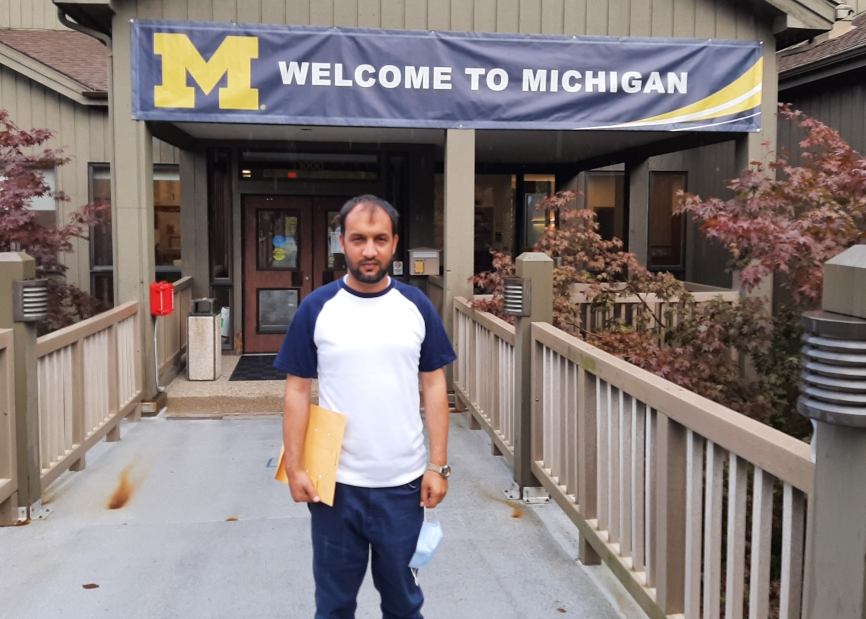 Jawad Sukhanyar, an Afghan journalist and 2019 Knight-Wallace Fellow, returned to Wallace House and the University of Michigan on October 4, 2021, after fleeing the Taliban in Afghanistan with his family in August.
Sukhanyar will join the university as a journalist-in-residence with the Donia Human Rights Center and the International Institute. The research fellowship, sponsored by Wallace House, will commence once Sukhanyar receives full clearance from U.S. resettlement and immigration officials.
"Among the tens of thousands of Afghans now beginning the difficult process of resettling in communities across the U.S., many are journalists and support workers who faced persecution and death in their home country for being employed by American news organizations," said Lynette Clemetson, Director of Wallace House. "It is imperative that we come together to support these journalists, and it is a privilege to be able to provide a safe and welcoming community for this family at such a critical moment."
Sukhanyar was a reporter for The New York Times in Afghanistan from 2011 to 2019. At the time, he was the longest-serving reporter in the organization's Kabul bureau. He came to the university in September 2018 as a Knight-Wallace Fellow, where he studied issues related to women's rights in Afghanistan. A target of the Taliban for his reporting and his affiliation with a U.S. media outlet, Sukhanyar, and his family faced grave danger from the extremist group.
"Being in Ann Arbor brings a sigh of relief for all of us. We have so many good memories of living here. But this time it is a bittersweet experience. None of us wanted to leave Afghanistan. We built our home there. We were forced to leave, and there is no hope that we can return," said Sukhanyar. "When we were in Ann Arbor before, I was here learning so I could take it all back to my country. Now we are here to survive."
In July, Wallace House invited Sukhanyar to return to the university as a journalist-in-residence. Unable to secure a visa to leave Afghanistan before the collapse of its capital to the Taliban, Sukhanyar and his family escaped chaos and gunfire at the Kabul airport and hid in the city for several days before being successfully evacuated out of their home country to safety.
The evacuation, led by The New York Times, was part of an extraordinary effort to save the lives of the Afghan staff who aided their journalism over the past 20 years. In an arduous journey reported by The Times, the group of more than 100 Afghans transited through Qatar and Mexico before entering the U.S. in Houston at the end of August.
"I feel safe now. I was five years old when I lost my father in the early days of the Afghan civil war," remembers Sukhanyar. "What I went through as a child, what I have seen in my country, I don't want my children to experience that."
Once immigration officials approve him to begin his fellowship at the university, Sukhanyar will study the implications of the U.S. departure from Afghanistan and new rule under the Taliban. Through his affiliation with the Donia Human Rights Center, he will engage with faculty, students, and community members interested in learning about his role as a journalist covering U.S. and Taliban influence in his home country.
"The Donia Center is honored and delighted to welcome Jawad as a journalist-in-residence. His expertise on human rights in Afghanistan, gained from years of on-the-ground reporting, will prove an extraordinary asset to students and faculty interested in human rights work," said Steven Ratner, U-M Profesor of Law and Director of the Donia Human Rights Center. "We look forward to connecting Jawad with people throughout the university who will be eager to hear from him."
After several agonizing months, the return to Ann Arbor is a homecoming of sorts for the Sukhanyar, his wife, and their four children. Now they look forward to starting school and settling into a stable routine with new friends.
---