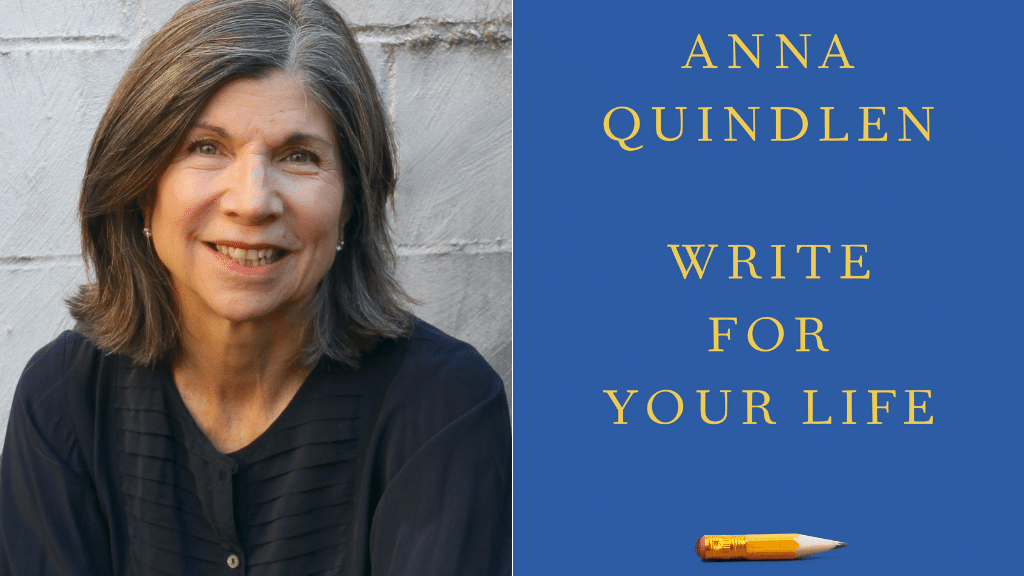 An evening with author Anna Quindlen
in conversation with Anne Curzan, dean of LSA
WRITE FOR YOUR LIFE
6 PM | Wednesday, Oct. 12, 2022
Rackham Auditorium
915 Washington Street
Free and open to the public
This is an in-person event.
Best-selling author Anna Quindlen says recording our daily lives in an enduring form is more important than ever, urging us to pick up a pen and find ourselves. Join Anna Quindlen and Anne Curzan, LSA Dean and English Professor, for an in-person discussion about Quindlen's book "Write for Your Life," and learn how anyone can write and why everyone should.
About Anna Quindlen
Anna Quindlen is a novelist and journalist whose work has appeared on fiction, nonfiction, and self-help bestseller lists. She is the author of nine novels: Object Lessons, One True Thing, Black and Blue, Blessings, Rise and Shine, Every Last One, Still Life with Bread Crumbs, Miller's Valley, and Alternate Side. Her memoir Lots of Candles, Plenty of Cake, published in 2012, was a #1 New York Times bestseller. Her book A Short Guide to a Happy Life has sold more than a million copies. Her most recent books are Nanaville: Adventures in Grandparenting and Write For Your Life. While a columnist at The New York Times, she won the Pulitzer Prize and published two collections, Living Out Loud and Thinking Out Loud. Her Newsweek columns were collected in Loud and Clear. Quindlen is the recipient of our Richard M. Clurman Award for mentoring and has served as a Livingston Awards judge for Wallace House since 2009.
About Anne Curzan
Anne Curzan is the dean of the University of Michigan's College of Literature, Science, and the Arts, the Geneva Smitherman Collegiate Professor of English Language and Literature, Linguistics, and Education, and an Arthur F. Thurnau Professor. Her research focuses on the history of the English language, attitudes about language change, language and gender, and pedagogy. She has published multiple books and dozens of articles. She has also created the audio/video courses Secret Life of Words: English Words and Their Origins and English Grammar Boot Camp for Great Courses. For six years, Professor Curzan wrote the blog Lingua Franca for the Chronicle of Higher Education.She is the featured expert on That's What They Say, a weekly segment and podcast on Michigan Radio that explores our changing language, and serves on the Wallace House Executive Advisory Board.
Co-Sponsors
College of Literature, Science, and the Arts
Department of English Language and Literature
Detroit Public Television
Literati Bookstore
Michigan Radio