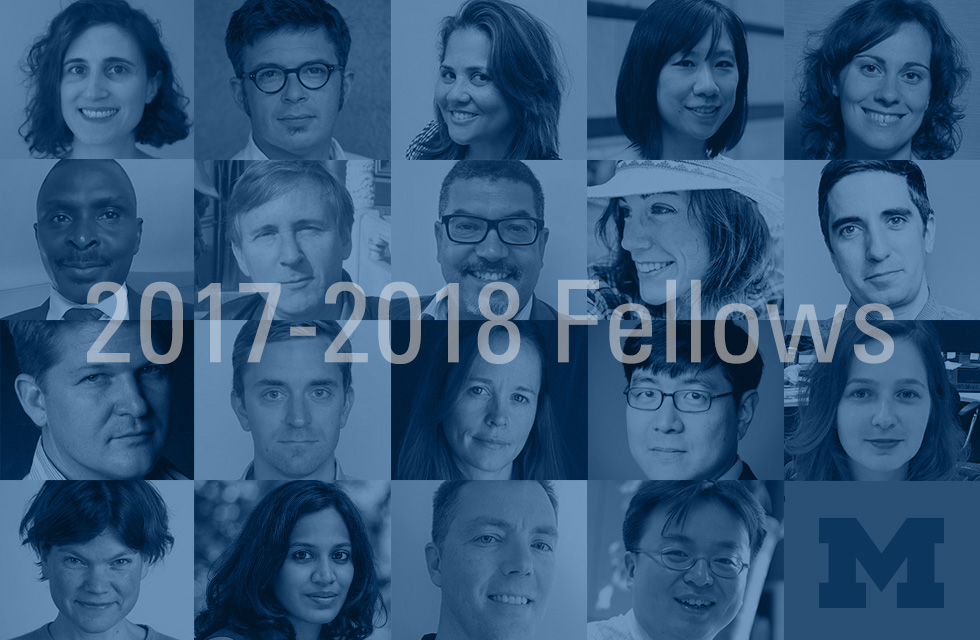 The University of Michigan has named its Knight-Wallace Journalism Fellows for the 2017-2018 academic year. The group, which includes 12 American and seven international journalists, is the 44th class of journalism fellows at the University.
"The international and domestic scope of this class of Fellows and the range of interests and expertise they bring will foster a rich environment for exploration and problem solving," said Wallace House Director Lynette Clemetson. "Supporting the essential work of journalists is of vital importance for a democratic society. We are pleased to provide this talented group the time and resources to sharpen their craft and to develop ideas that will bolster journalism excellence and innovation."
Knight-Wallace Fellows spend an academic year at the University of Michigan in Ann Arbor to pursue individual study plans and to engage in collaborative learning through fellowship seminars, training workshops and travel. Through twice-weekly seminars, Fellows engage with visiting journalists, eminent scholars and creative thinkers from a range of fields. Weeklong international news tours provide broader context to political, economic and social forces shaping their fields of study, and to trends and challenges facing journalism in other countries. In recent years, the program has visited South Korea, Brazil, Turkey, Argentina and Russia.
The program is based at Wallace House, a gift from the late newsman Mike Wallace and his wife, Mary. Knight-Wallace Fellows receive a stipend of $70,000 for the eight-month academic year plus full tuition and health insurance. The program is entirely funded through endowment gifts by foundations, news organizations and individuals committed to improving the quality of information reaching the public.
Fellows and their study projects are:
Dayo Aiyetan, Executive Director, International Center for Investigative Reporting (Abuja, Nigeria). Advancing best practices for whistle blowing platforms to support investigative reporting in Nigeria
Alberto Arce, Independent Journalist (Mexico City, Mexico). Understanding Central America as the world's deadliest peacetime region
Regina Boone, Staff Photographer, Richmond Free Press (Richmond, Va.). Family, legacy and the viability of black newspapers
Candice Choi, Food Industry Writer, Associated Press (New York, N.Y.). Uncovering the social and corporate forces that shape our eating habits
Chitrangada Choudhury, Independent Journalist (Orissa, India). Local rights and the role of informed consent in ecological justice and sustainability
Danielle Dreilinger, Reporter, NOLA.com/The Times Picayune (New Orleans, La.). Race, class, gender and the present relevance of home economics class
Jennifer Guerra, Senior Reporter, Michigan Radio (Ann Arbor, Mich.). Intergroup relations: The role and responsibility of public media in fostering civil discourse
Matthew Higgins, Independent Sports Writer (Amherst, N.Y.). The interplay between soccer, status and identity among young refugees
Mark Magnier, China Economics Editor, The Wall Street Journal (Beijing, China). Anti-globalization and what it means for China's expanding soft power
Marcelo Moreira, Chief of Special Projects, Globo TV (Rio de Janeiro, Brazil). New approaches to ending violence against journalists
Sang-hun Oh, Senior Reporter, The Korea Economic Daily (Seoul, South Korea). Pension funds and university funds: investment trends in the U.S.
Lois Parshley, Independent Writer and Photographer (Portland, Ore.). Emerging diseases and new approaches to long-form science journalism
Azi Paybarah, Senior Reporter, Politico (New York, N.Y.). Reaching beyond natural audiences: Rebuilding media credibility through technology
John Pendygraft, Staff Photographer, Tampa Bay Times (Tampa Bay, Fla.). Elevating investigative journalism projects through techniques of anthropology and feature length filmmaking
John Shields, Commissioning Editor, "Today" at BBC Radio 4 (London, England). Addressing and mitigating the loss of public trust in broadcast media
Amy Toensing, Independent Photojournalist (New Paltz, N.Y.). New ways to teach and tell stories of women through photos and documentaries
Mariana Versolato, Science and Health Editor, Folha de São Paulo (São Paulo, Brazil). New models to organize and present science and health news
Lisa Wangsness, Religion Reporter, The Boston Globe (Boston, Mass.). Emergent cultural and political issues in American Muslim communities
Robert Yoon, Director of Political Research, CNN (Washington, D.C.). Revamping how news organizations collect and disseminate election results and data
The selection committee included Wallace House Director Lynette Clemetson; Associate Director Birgit Rieck; Knight-Wallace Alumni Ford Fessenden (Graphics Editor, The New York Times), Teresa Frontado (Digital Director, WLRN, Miami), Kate Linebaugh (East Coast Bureau Chief, The Wall Street Journal), Austin Ramzy (Asia Correspondent, The New York Times) and Yvonne Simons (Assistant News Director at CBS 13, Sacramento); and University of Michigan Professors Bobbi Low (Natural Resources and Environment) and Carl Simon (Mathematics, Complex Systems and Public Policy).