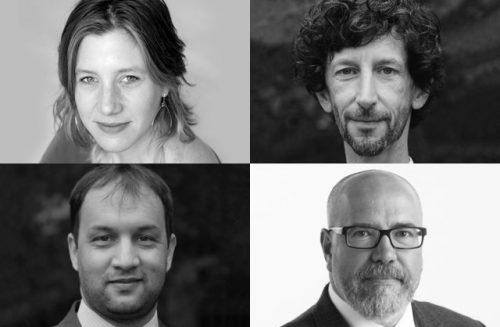 Knight-Wallace Fellows Vanessa Gezari, Itai Anghel and Jawad Sukhanyar with media law scholar Leonard Niehoff at the Eisendrath Symposium
March 26, 2019 | 3 p.m.
Rackham Amphitheatre, fourth floor
915 Washington Street, Ann Arbor
On stage with the foreign correspondents of Wallace House at the Eisendrath Symposium
Harmful rhetoric towards journalists and the press casts doubt about the future of a free press and the safety of reporters. This was evident following the murders of five staff members at the Capital Gazette and Washington Post journalist Jamal Khashoggi. As democratic nations fall short in protecting press freedom, what are the implications for journalists of all nations? In alarming numbers, reporters around the world are persecuted, jailed, exiled and even killed for exposing the truth.
Knight-Wallace journalists Vanessa Gezari of The Intercept, Itai Anghel of Israeli TV, and Jawad Sukhanyar of The New York Times discuss how threats and state censorship impact their work. In a discussion led by the University's media law and First Amendment scholar Professor Leonard Niehoff, they share their experiences reporting from Eastern Europe, the Middle East, South Asia and Africa and discuss what can be done to protect journalists and foster press freedom around the world.
The Eisendrath Symposium honors Charles R. Eisendrath, former director of Wallace House, and his lifelong commitment to international journalism.
About the Speakers
Vanessa Gezari is a 2012 Knight-Wallace Fellow and The Intercept's national security editor. She has reported from four continents, nine countries, and many corners of the United States for outlets such as the Washington Post, Slate and the New Republic. She is the author of "The Tender Soldier," about an experimental U.S. military program and its use in Afghanistan, and an adjunct professor at Columbia Journalism School.
Itai Anghel is a 2019 Knight-Wallace Fellow and a correspondent and documentary filmmaker for UVDA, a weekly investigative current affairs and documentary program on Israeli TV, Channel 2, where he also worked as a senior foreign affairs correspondent. Previously, he was a correspondent and chief editor of foreign affairs at Galatz (GLZ) Radio Station. He received the Sokolov Award, the highest award for outstanding journalism in Israel, in 2017, and he is a five-time recipient of the Best TV Documentary in Israel award from the Israeli Forum of Documentary Filmmakers.
Jawad Sukhanyar is a 2019 Knight-Wallace Fellow and a reporter for The New York Times in Afghanistan. He joined the Times in 2011 and is now the longest serving reporter in the paper's Kabul bureau. Sukhanyar covers human rights and women's issues and also covered the 2014 disputed Afghan presidential election. He worked as a researcher on a book about a couple who escaped an Afghan honor killing for the author Rod Nordland. Until 2011, he was a freelance reporter and researcher for various foreign news organizations. He also served as interpreter and researcher on a biography of former Afghan president Hamid Karzai for the author Bette Dam.
About the Moderator
Leonard Niehoff  is a professor at the University of Michigan Law School, where he teaches courses in Media Law, First Amendment, and the history of banned books, among other things. He is the author of more than one-hundred articles, many in the field of free speech, and is currently at work on a book about the First Amendment. He has also practiced media and First Amendment law for over thirty years, representing numerous print publications, broadcasters, online media, and journalists. He is a graduate of the University of Michigan Law School.
Free and open to the public.
This event is produced with support from the John S. and James L. Knight Foundation.
Michigan Radio and the Center for Russian, East European & Eurasian Studies are co-sponsors of the event.