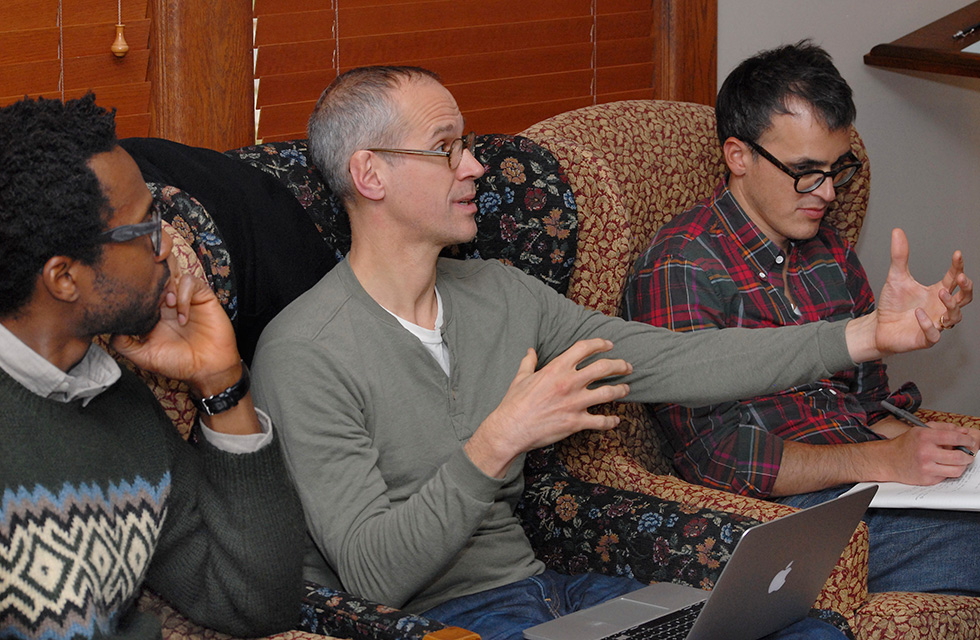 During a typical Tuesday evening fellowship seminar at Wallace House, a reporter, author or professor joins our class of mid-career journalists for a stimulating off-the-record chat in front of the Wallace House fireplace. Our guest speakers are dynamic, all experts in their fields. Throughout these ninety-minute salons, Fellows get to sit back, soak up new ideas and ask probing questions. Our seminars are deeply engaging sessions, in a deeply comfortable environment.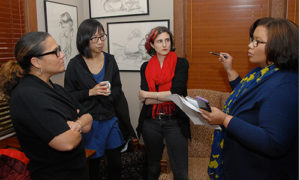 A month before Thanksgiving break – just around the time our fellowship class settled into this cozy routine – we were thrust outside of our comfort zone.
Wallace House director, Lynette Clemetson, broke us up into teams, and gave us three weeks to develop a podcast pitch and gather and edit some sample audio. To up the ante, she told us we'd be pitching our concepts to producers from Gimlet Media and "This American Life" who would be joining us just before the holiday break for a two-day audio bootcamp.
Umm, yes please!
I've been a radio producer for nearly 15 years and I love "This American Life"-style narrative storytelling. So I was pumped at the chance to learn from two rock star producers. And I wasn't the only one. You probably don't need me to tell you that podcasts and audio storytelling are having a moment. Several Fellows had expressed interest in learning what it takes to create a successful podcast and how to make a story sing on air. We were about to get a very hands-on crash course.
Lynette handed out the piece of paper with our teams listed on it and surveyed the room, gauging reactions — a few smiles here, some nervous laughter there, more than a couple of blank stares. Most of the class had little to no experience in audio. Two of us came from radio, but we had never worked on podcasts, which differ in style and approach from broadcast news. We were all feeling a bit out of our element.
That's one of the best things about this fellowship and what makes the time as a Knight-Wallace Fellow so special; it's a chance to push yourself creatively in a supportive environment.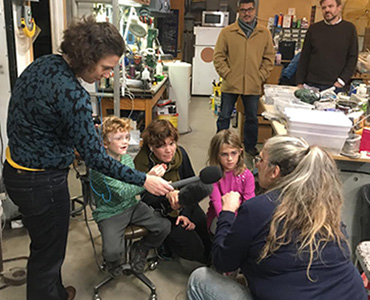 I did a lot of solo work before coming to the fellowship, working on long-form audio pieces for months at a time with only the occasional check-in from an editor. So I welcomed the chance to work on a group project. My assigned podcast team consisted of a photojournalist, a print reporter, an international television editor, and me. Sounds like a joke set up, right? A photojournalist, a print reporter and a TV editor walk into a bar with a radio producer…
But seriously, it was a great project. Never in my career have I had the chance to collaborate on a new idea with such a varied group of smart, accomplished journalists. The medium might have been new, but we all knew how to dive into unknown territory on tight deadlines. It didn't take long to settle on an idea. We decided to develop something kid-focused. We are all parents, and we knew from our own listening that podcasts for kids are an underdeveloped segment of the market. Within a few days we were in the field grabbing tape.
Our first stop? The city of Ypsilanti. With recording kits in hand and our own kids in tow, we visited a glassblowing studio where the kids felt the heat from the super-hot furnace and tried blowing some glass themselves through a long metal blowpipe.
The work was fun. But the thought of presenting it to our visiting experts was more than a little nerve wracking. Alex Blumberg is CEO and co-founder of Gimlet Media, a company that produces tons of podcasts you've probably listened to, including one of my favorites, "StartUp," which Blumberg hosts. He also co-founded NPR's "Planet Money" podcast and is a former "This American Life" producer. Jonathan Menjivar is a long-time producer with "This American Life" and has produced some of the show's most memorable pieces.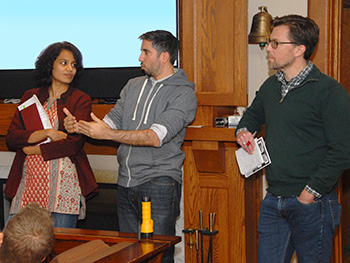 To help demystify the podcast process, Alex and Jonathan were joined by Mosi Secret, a 2016 Knight-Wallace Fellow. A print reporter who came to the Fellowship from The New York Times, Mosi had just turned a recent story about a 1960s experiment to integrate an elite private school in Virginia into an hour-long "This American Life" episode. He was there to make the process less intimidating and to push us to contemplate taking new chances post-Fellowship.
The first day of the bootcamp was like a typical seminar. Each speaker talked about their own careers and their editorial and stylistic approach. Jonathan was the producer who helped Mosi create his piece, and the two deconstructed their process for us, explaining how it differed from The New York Times Magazine print version of Mosi's story.
Day two was more like a journalism version of "The Voice." Alex, Mosi and Jonathan were the celebrity judges waiting to be impressed by our storytelling chops. We were the yet undiscovered podcast stars, hoping to blow their minds with our raw talent and bankable ideas. And we were asked to workshop our ideas in front of the entire fellowship class. I've never done a group edit before, and the idea of playing tape in front of a whole room of people was, frankly, kind of terrifying. But Alex and Jonathan are big proponents of the group edit — more voices in the room, more perspectives to draw from — and I'm happy to report that I am now, too.
Alex and Jonathan talked through each group's pitch and showed us what it would take to get the concepts up and running as successful podcasts. Fellows chimed in with their own ideas on where to take the story, what voices to include and who would be the ideal host.
Everyone in the group encouraged each other and made the ideas stronger. The supportive input from other teams was invaluable. By the end of the bootcamp, I was convinced that the most important element of this Fellowship is fellowship.
And who knows, it could be one of us producing the hot podcast of 2018. 
Jennifer Guerra is a 2018 Knight-Wallace Fellow and a senior reporter at Michigan Radio, an NPR affiliate in Ann Arbor.