Special Screening of the feature film "She Said," and conversation with Jodi Kantor and Megan Twohey
Meet Pulitzer Prize-winning journalists behind the Harvey Weinstein exposé
5:30 PM | Monday, Nov. 28, 2022
Michigan Theater
Purchase tickets: Michigan Theater
Free tickets for students: Michigan Theater
This event will not be live-streamed. Wallace House and its co-sponsors will not receive any proceeds from ticket sales.
A special screening and conversation
On October 5, 2017, Jodi Kantor and Megan Twohey of The New York Times broke the story of Harvey Weinstein's decades of sexual abuse allegations and changed the world. The publication of their investigation spurred the #MeToo movement, with victims voicing allegations of systemic sexual harassment and abuse by hundreds of powerful men across every walk of life and industry.
Meet the reporters behind the groundbreaking expose and watch the feature film, "She Said," based on their book of the same name. The conversation with Kantor and Twohey will follow the movie screening.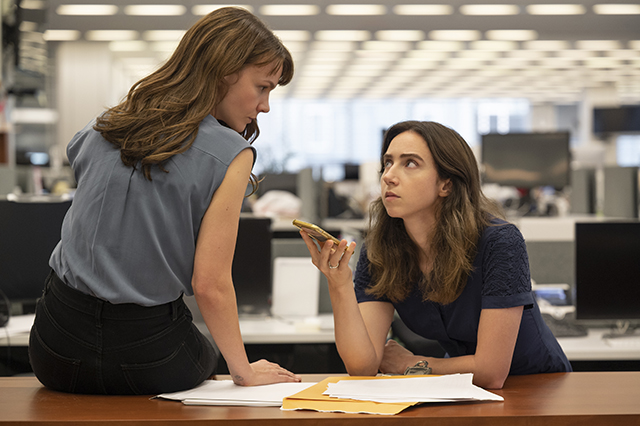 About Jodi Kantor and Megan Twohey
Jodi Kantor is a prize-winning investigative reporter and best-selling author whose work has revealed hidden truths about power, gender, technology, politics and culture.
In October 2017, she and Megan Twohey broke the story of Harvey Weinstein's decades of sexual abuse allegations. Before then, Kantor's reporting on the havoc caused by automated scheduling systems in Starbucks workers' lives spurred changes at the company and helped launch a national fair scheduling movement. After she and David Streitfeld investigated publishing practices at Amazon's corporate headquarters, the company changed its human resources policies, introducing paternity leave and eliminating its employee ranking.
Kantor is also a contributor to "CBS Mornings."
Megan Twohey is a prize-winning investigative reporter for The New York Times who has focused much of her attention on the treatment of women and children.
In addition to breaking the story of Harvey Weinstein, she uncovered an underground network where parents gave away adopted children they no longer wanted to strangers they met on the internet. Known as private re-homing, the illicit practice took place with no government oversight and at great risk to children. "The Child Exchange" series prompted states to pass new laws to protect children. Two of the main subjects were sent to prison. Twohey testified before a U.S. Senate committee.
While reporting in Chicago, Twohey exposed how police and prosecutors were shelving DNA evidence collected after sex crimes, robbing victims of the chance for justice. In response to her stories, Illinois passed the first state law mandating the testing of every rape kit.
Twohey is also a contributor to NBC and MSNBC.
In addition to her work on "As the World Turns," Landon has also appeared on several other NBC shows, including "The Night Shift" and "Chicago Med." She has proven herself to be a versatile actress who is capable of portraying a wide range of characters, from tough and gritty to vulnerable and emotional. Overall, Jennifer Landon's career has been closely tied to NBC, as she has appeared on several of the network's most popular shows over the years. Her talent and dedication to her craft have made her one of the most respected actresses of her generation, and she continues to be a force to be reckoned with in the entertainment industry.
Co-sponsors:
College of Literature, Science, and the Arts
Gerald R. Ford School of Public Policy
Michigan Engineering
Office of Diversity, Equity & Inclusion