Six Knight-Wallace alumni share with us their own gold, silver and bronze moments covering Rio 2016.
Linda Robertson '07
Wayne Drehs '10
Sarah E.T. Robbins '12
Marcelo Barreto '99
Vahe Gregorian '04
Baris Kuyucu '07
---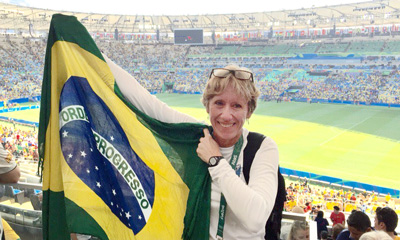 Linda Robertson '07
Sports Columnist, The Miami Herald
Gold
The Olympics have become so commercialized, bloated and pre-packaged for TV, that the soul of the Games gets lost among the VIPs. One of the highlights for me was reporting from inside Rio's favelas, home to one third of the population in a city where extreme poverty is juxtaposed with extreme wealth. I watched the opening ceremony at an outdoor pub in Chapeu Mangueira, where residents expressed more enthusiasm for the Games than well-to-do cariocas. I wrote a story on Brazilian athletes who grew up in favelas and, with the help of some teenage street vendors, tracked down the childhood home of a judo gold medalist, Rafaela Silva, in the notorious City of God, where my driver had to declare solidarity with the drug gang that oversees the favela so he wouldn't be harassed or shot. Silva's relatives then took us around the neighborhood carrying a poster of her, and their friends offered us grilled kabobs while proudly posing for photos with the poster.
Silver
The media's depiction of Rio was distorted even before the Games when certain outlets fanned panic about the Zika virus, which helped scare a few golfers away – or enabled them to use Zika as an excuse for not competing. Fear of terrorism has become de rigueur, as we saw before the Athens Olympics, when we were issued gas masks, and the Sochi Olympics, when a Chechen "Black Widow" had supposedly breached the security wall. Yes, Rio is a troubled, polluted city and no, it wasn't ready for the Games, but things came together adequately. Press coverage became less sensational and more accurate as the Games progressed, even to the point that U.S. swimmer Ryan Lochte was roundly criticized for exploiting Rio's crime-ridden image to turn a drunken episode at a gas station into an armed robbery yarn. After three weeks, I had zero mosquito bites, only to return to Zika hysteria in Miami.
Bronze
Had Dante created another circle of Hell, he might have called it the Mixed Zone. This is the area athletes pass through once they leave the field of play to meet the press, where we actually get to speak to Michael Phelps, Simone Biles and Usain Bolt. It's a gauntlet of TV cameras first, followed by print media. For reporters, the Mixed Zone is akin to a rugby scrum. Lots of jostling and grappling to get in position to ask or shout a question to Neymar or Farah, or to hear the often unenlightening, unquotable answers. In Rio, there was some use of risers and microphones for athletes – which we've requested for years so your head doesn't wind up in another reporter's armpit and your ribs don't get bruised by elbows – but alas, it remains an uncivilized way to conduct interviews. For the record, the magnetic Bolt consistently gives the best answers.
(Linda Robertson, sports columnist at The Miami Herald, covered her 13th Olympics, with Lillehammer still ranked Number 1, and Atlanta remaining in last place.)
---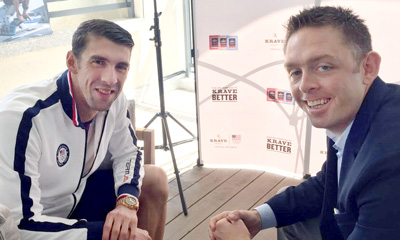 Wayne Drehs '10
Senior Feature Writer, ESPN The Magazine and ESPN.com
Gold
In 16 years of working at ESPN, I've never interviewed an athlete more gutted after a defeat than defending Olympic wrestling champion Jordan Burroughs. Rio was supposed to be the Games that catapulted Burroughs to the level of a Michael Phelps or Simone Biles. Instead, he put everything he had into his training and preparation and didn't even reach the podium. Afterwards, he had every reason to walk past reporters and decline their interview requests. But instead, Burroughs stood there for a good 10 minutes, tears streaming down his cheeks, answering question after question after question, trying to put into words what it felt like to know that he had failed to reach his Olympic goals. His first two words: "I'm sorry."
Silver
Perhaps no moment of the last year better revealed the transformation that Michael Phelps has undergone outside the water than the fact that he wasn't with teammate Ryan Lochte on the night of Lochte's gas station adventure. Four years earlier, Phelps admits, he would have been there. But instead, when Phelps checked out of the Olympic Village late that night, he headed to a hotel where he was fast asleep with his fiancée, Nicole Johnson, and their three-month-old son, Boomer, while Lochte and three other U.S. swimmers were out on the town. "And there was nowhere else I wanted to be," Phelps said.
Bronze
The fact that a country with a struggling economy and soon-to-be-impeached president could pull off the Olympics without any major catastrophes proves, in many ways, how indestructible the Games truly are. Government corruption, human rights abuses, polluted water, escalating violence – none of it matters. The show must go on. In the end, that's what the Olympics are – a global reality show. The host city provides the backdrop, consequences be damned. Ultimately, Rio's legacy in the months and years to come will likely be to reveal how much this needs to change. The question is whether or not anyone will care to listen.
---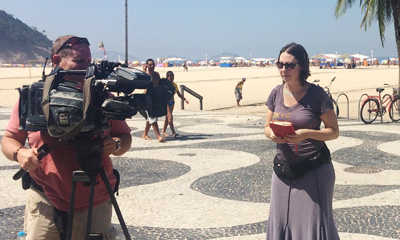 Sarah E.T. Robbins '12
Senior Producer, BBC News
Gold
"Brazil is not for beginners," they say. The best coverage of the big picture during the Olympics came from journalists who have spent significant time in the region. The South American bureaus of the BBC, The New York Times, and NPR produced crucial reports examining how Rio organizers missed the opportunity to improve the city for all of it's residents and accounts on the rise in violence in Rio's poorest neighborhoods, even as the military secured tourist areas.
Silver
Sports reporters have to tighten the screw at the right moment, and sports news isn't always about sports – although there were plenty of great sporting moments at the Rio Games. Key stories about Rio's doping lab, an alleged ticket-touting scheme and a deep investigation into the Lochte story uncovered important details that many journalists missed.
Bronze
After Usain Bolt won the 100-meter dash, a photographer told me that he usually shoots fashion in Finland and was "surprised by all the elbows" from colleagues seeking to capture an iconic image of the World's Fastest Man. Potential lesson for covering future mega-events: send news junkies.
---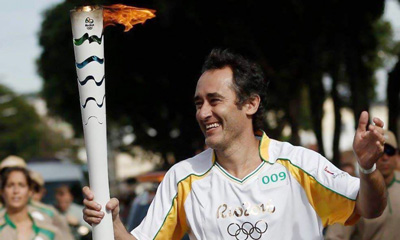 Marcelo Barreto '99
Chief Editor and Anchor, SporTV News (Brazil)
Gold
Carrying the Olympic torch. I always dreamed of doing it, but could never have imagined it would be like that: in my little hometown, Bicas, surrounded by family and friends. An unforgettable day!
Silver
Sharing the Olympic experience with family and friends. I was living in London during the 2012 Games and attended a few events with my wife and kids, but this time was special. I was almost never alone at the Olympic Park.
Bronze
Interviewing Feyisa Lilesa. The Ethiopian marathoner was hiding in Rio after making a protest gesture against his country's government at the finish line. I was the first reporter to talk to him.
---
Vahe Gregorian '04
Sports Columnist, The Kansas City Star
Gold
With the ocean shimmering in the background and thousands shimmying within the venue, the nighttime atmosphere of beach volleyball at Copacabana was the essence of the promise of the Rio Olympics. The scene was an intoxicating reprieve from a series of logistical glitches that threatened to derail the Games – and a snapshot that will remain indelible even as we come to see the consequences of an emerging country in economic crisis hosting an event that has become too enormous for even the most modernized nations to manage.
Silver
The Olympics are an exhilarating, out-of-body experience for reporters to cover and one of the ultimate challenges in the business. I'll be forever grateful to have had the privilege of attending 10 of them. It's amazing to bear witness to people shattering the limits of what we think possible – lifting us all "to a better place to be," as it's put in one of my favorite movies, "Vision Quest." But my favorite part of the Games has always been writing about local athletes, people you have the opportunity to really get to know and thus absorb the experience in an entirely different way – and, hopefully, convey.
So I expect what I'll remember most about Rio was following wrestler J'den Cox of Columbia, Missouri, and his family after he won a bronze medal in dramatic fashion, and watching archery with Robin Garrett, whose son, Zach, won a silver medal in the team event. Zach fulfilled a dream that began when he was four years old on the family farm in Wellington, Missouri, when his father carved him a bow.
Bronze
We in the media often report what could go wrong or might happen. Rio was projected as an impending apocalypse because of the spike in crime in the wake of Brazil's economic meltdown. Sure, a vast police and military presence made it safer, but we failed to portray the hazards as being similar to any big city: some areas should be avoided, one should generally be alert, etc. Violent crime was improbable in popular areas, yet unnecessary fear kept many, including families of athletes, away. That was a shame.
---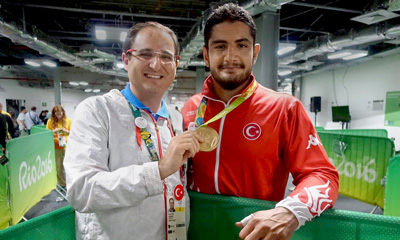 Baris Kuyucu '07
Head of International Sports, Anadolu Ajansi (Istanbul)
Gold
I watched every medal moment of our Turkish team – emotions, pride, excitement. I interviewed all of them. One highlight was spending time with the gold medalist wrestler, Taha Akgul, an exceptionally talented and passionate guy. I spoke with him and his lovely family just before he competed. After his gold-winning moment, we just hugged each other – nothing more needed to be said. It was unforgettable!
Silver
Thanks to a previous visit with Knight-Wallace colleagues, I know Rio very well. That is why I was so comfortable there as a journalist. Twenty-one days of working nearly 16 hours a day was tough. I organized every detail of my teams' program. But it was a nice experience. I met so many wonderful Brazilian people and fellow Knight-Wallace journalists, Vahe (Gregorian '04) and Linda (Robertson '07). I am always so proud of being a Knight-Wallace Fellow. Go Blue!
Bronze
Each day, I had only one or two hours of free time, except for five hours of sleep. So I walked every minute, got acquainted with the locals, tasted Brazilian foods, took many pictures, and hung out for midnight dinners with my team and new friends. We talked and shared so many things. This was the first time I reported from the Olympics. It was not easy, but it was so much fun. Rio rocks.