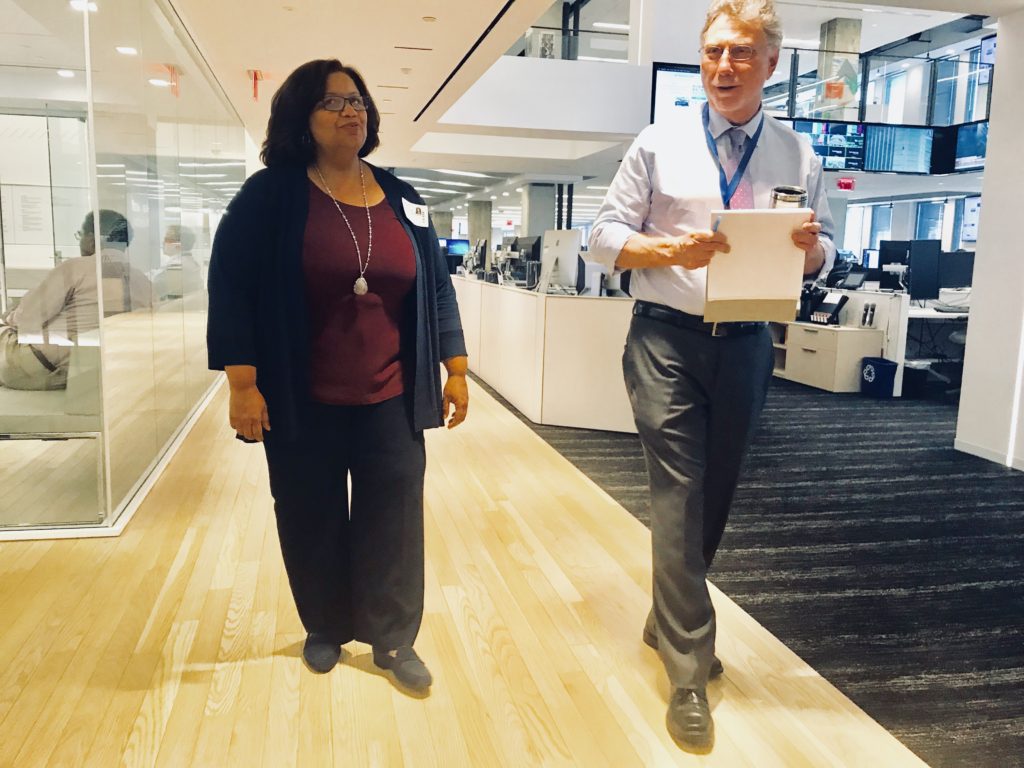 Walking down the street on my way to the Online News Association's annual conference at the Marriott Wardman Park hotel in Washington, D.C., a recognizable man with short gray hair and neon shorts ran past me. He looked like John Podesta.
If it was Podesta, it made sense that he would be running away from wherever reporters were gathering. As manager of Hillary Clinton's 2016 presidential campaign, Podesta led the post-election hand wringing about Russians stealing his emails, media fascination with the email saga and the need for a more intelligent way to report on politics. Broadly, I agreed with him. That's why, after 14 years covering politics in New York City, with a popular newsletter under my belt and enough appearances on cable news shows to justify carrying a blazer and tie in my backpack, I decided to apply for a Knight-Wallace Fellowship.
I was so steeped in daily political coverage that when I heard my class of Fellows was coming to D.C., it seemed incomprehensible that we would do anything other than talk about the 2016 presidential election the entire time. I was surprised when the conversations unfolded differently.
Our group met with Marty Baron, executive editor of The Washington Post, and top editors at NPR and The Atlantic. All were adapting a digital-dominant approach to news and figuring out how to deliver more content to their core constituencies and paying customers. I wondered about the unseen costs of this faster, customer-focused approach.
I hoped to get answers at the conference. When ONA started in 1999, it was like a support group. Digital reporters were interlopers in the newsroom, afterthoughts sitting at the kids' table, far away from the adults. Today, across the street from the conference hotel, an old Washington Post newspaper box sat empty, spray-painted black and locked. The conference, by contrast, was crammed with over 3,000 digitally-focused attendees. Surely this would be the place to offer direction on the issues nagging at me. How should we use the internet to better cover politics? How are smart reporters using Facebook and Twitter? Can I make a podcast about politics as popular as a cat video?
There was plenty on offer about the latest digital trends. Left hanging, though, remained the thorniest questions raised by the 2016 presidential election. For instance, can reporters clustered on the East Coast reliably cover Red State America? This topic was front and center in ONA's first session, led by CNN's Brian Stelter: "Trust, Truth and Questions for the Media." Panelist Nikole Hannah-Jones, a staff writer for The New York Times Magazine, said the public is losing trust in the media because newsrooms aren't diverse enough. Cenk Uygur, co-founder and host of The Young Turks, said it was less about race and more about poverty, an issue "corporate media" and well-paid reporters are not good at covering.
Both of those seemed correct, and yet, incomplete. I found myself nodding along when public radio reporter Asma Khalid said the primary problem was a dearth of reporters in the majority of American communities. She noted a disturbing trend during the presidential race. Reporters – often from the East or West Coasts – tracked down voters – often in the middle of the country – grabbed their quotes, then left. Practically nobody stuck around, let alone made return trips. Khalid did. "I never thought I'd see you again," one voter told her. The anecdote reminded me of the "left-behind" places ProPublica reporter Alec MacGillis spoke about weeks earlier at the annual Graham Hovey Lecture back in Ann Arbor.
On the final day of the conference, I entered the main ballroom minutes before the start of a session called "When Satire is the Most Effective Political Coverage." I sat down next to a man conspicuously older than most at the convention. It was Jeff Jarvis, director of the Tow-Knight Center for Entrepreneurial Journalism and a professor at the CUNY Graduate School of Journalism. We talked about the fact that the American Society of News Editors was slated to hold their annual meeting in the same hotel a week later. The ASNE conference, Jarvis speculated, would be much smaller. He was drawing a direct correlation between conference size and industry potency.
Jarvis looked out at the amorphous ONA crowd in the ballroom – many still ambling to their seats with tote bags full of CNN water bottles and Facebook notebooks – and said, "They don't realize they won."
I left Washington and ONA with more questions than answers. That's similar to how I started my career at the Queens Tribune, often returning from press conferences with pages full of quotes and a head full of questions. Now in Ann Arbor, that confusion feels comforting. The questions wouldn't be worth studying if the answers were easy.
Azi Paybarah is a 2018 Knight-Wallace Fellow and a senior reporter at Politico New York covering City Hall, politics, crime and the New York Police Department.