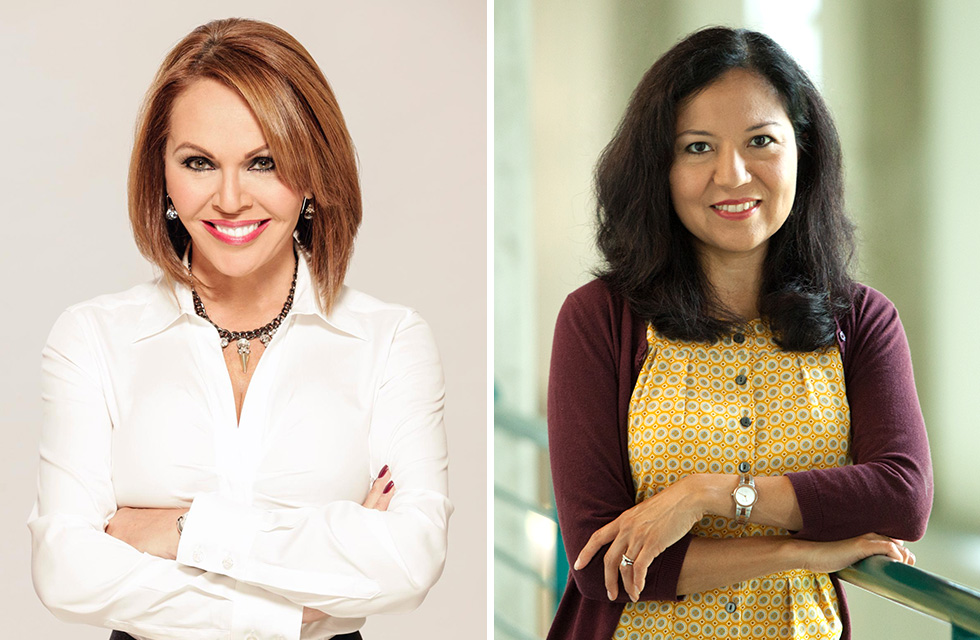 Wallace House is pleased to announce the addition of María Elena Salinas and Stella M. Chávez to the Livingston Awards' judging panels. Salinas, anchor, Univision News joins the Livingston Awards national judging panel. Chávez, education reporter for KERA, an NPR affiliate in Dallas, joins the Livingston Awards regional judging panel.
Salinas is the co-anchor of Univision Network's flagship daily newscast "Noticiero Univision," and weekly newsmagazine "Aquí y Ahora." Called the "Voice of Hispanic America" by The New York Times, she is the most recognized Hispanic female journalist in the United States. Salinas began her career in broadcast journalism in 1981 as a reporter, anchor and public affairs host for KMEX-34, the Univision affiliate in Los Angeles. Since then she has received many prestigious awards for her work including: The National Academy of Television Arts and Sciences' Lifetime Achievement Award; a Peabody Award; a Gracie Award for Outstanding Anchor; seven Emmy Awards; a Walter Cronkite Award; an Edward R. Murrow Award; the "Intrepid Award" from National Organization for Women (NOW); and the 2013 Outstanding Achievement Award in Hispanic Television by Multichannel News and Broadcasting & magazines.
Chávez is a reporter at KERA, the NPR affiliate in Dallas. She covers education and has reported on major news stories, such as the shooting deaths of five police officers in downtown Dallas, the Ebola outbreak in Dallas and the migration of unaccompanied minors to Texas.  She has won several state and national awards, including a Livingston Award in 2007 for her Dallas Morning News' series, "Yolanda's Crossing." The co-authored stories reconstruct the 5,000-mile journey of a young Mexican sexual-abuse victim from a small Oaxacan village to Dallas. For that series, she also received the Dart Award for Excellence in Reporting on Victims of Violence, the APME International Perspective Award and the National Association of Hispanic Journalists Print Feature and Online awards.
"We are honored to have these two talented journalists joining our esteemed judges," said Wallace House director Lynette Clemetson. "The Livingston Awards draws exceptional applicants from all over the country. Having judges with far ranging experience and regional expertise helps us tap into the full breadth of new voices and excellent journalism our awards seek to recognize."
The regional judges read all qualifying entries and select the finalists in local, national and international reporting categories. In addition to Chávez, the regional judging panel includes: David Greene, host, "Morning Edition," NPR; Stephen Henderson, editorial and opinion editor, Detroit Free Press; Shirley Leung, columnist, The Boston Globe, Raney Aronson-Rath, executive producer, "Frontline," PBS; and Amy Silverman, managing editor, Phoenix New Times.
The Livingston Awards national judges review all final entries and meet to select the winners in local, national and international reporting. In addition to Salinas, the national judging panel includes: Christiane Amanpour, chief international correspondent, CNN; Ken Auletta, media and communications writer, The New Yorker; Dean Baquet, executive editor, The New York Times; John Harris, editor-in-chief and co-founder, Politico; Clarence Page, syndicated columnist; Anna Quindlen, author; and Kara Swisher co-founder and executive editor of Recode.