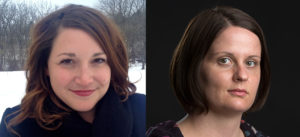 Building Trust: How to report when your subjects and sources distrust the media.
March 25 | 10:15 – 11:15 a.m.
Boston University
George Sherman Union
Claire Galofaro won the Livingston Award this year for her portraits of rural Appalachia on the brink of extinction. From examining the rise of Donald Trump in real time to documenting a day in a small West Virginia city where 28 people overdosed in a four-hour period, there were no shortcuts to building the trust she needed to tell the stories of local residents at a time when many were feeling forgotten. Livingston Award winners Claire Galofaro and Ellen Gabler will share how to report when your subjects and sources distrust the media.
Speaker:
Claire Galofaro, 2017 Livingston Award winner for the Associated Press series "Surviving Appalachia," a devastating portrait of economic despair and a rural landscape on the brink of extinction. Galofaro is a correspondent for the Associated Press, helping to lead news coverage of Kentucky, Tennessee and West Virginia. She previously reported for The Courier Journal (Louisville, Ky.), The New Orleans Advocate, The Times-Picayune, Outside and the Bristol Herald-Courier in the Appalachian mountains of southwest Virginia.
Moderator:
Moderator: Ellen Gabler, 2014 Livingston winner, for "Deadly Delays," an investigation found that systematic delays in testing blood samples of newborn babies for deadly disorders led to preventable deaths and disabilities Gabler is an investigative reporter at The New York Times. Before starting at the Times in April 2017,  she worked for the Milwaukee Journal-Sentinel as a reporter and deputy investigations editor.  In addition to the 2013 Livingston Award, Gabler was a Gerald Loeb and IRE finalist, and winner of the Pulliam First Amendment Award in 2016.