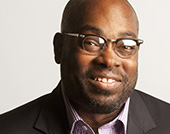 Editorial and Opinion Editor, Detroit Free Press
Regional Judge
Stephen Henderson has been editorial page editor for the Detroit Free Press since January 2009.
He is a graduate of the University of Michigan and a former editorial page editor of The Michigan Daily, the school's 125-year-old daily student newspaper.
Henderson has also been a reporter, editorial writer and editor at The Baltimore Sun, the Chicago Tribune, the Lexington (Ky.) Herald-Leader and the Knight-Ridder Washington Bureau, where he covered the U.S. Supreme Court from 2003-2007.
Henderson's work has also been honored with more than a dozen national awards, including the 2014 Pulitzer Prize for commentary, the 2014 Scripps Howard Award, the 2001 ASNE writing award for editorials, several National Headliner Awards and two Sigma Delta Chi prizes. He was also the National Association of Black Journalists' pick for Journalist of the Year in 2014.
Henderson hosts a daily radio show, "Detroit Today," on WDET, Detroit's public radio station. And he is host of the weekly talk shows "American Black Journal" and "MiWeek," both on Detroit Public Television.