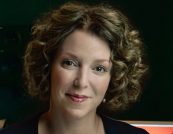 Editor in Chief, Executive Producer, "Frontline," PBS
National Judge
Raney Aronson-Rath is the editor-in-chief and executive producer of "Frontline," PBS' flagship investigative journalism series, and is a leading voice on the future of journalism. She has been internationally recognized for her work to expand the program's reporting capacity and reimagine the documentary form across multiple platforms. She joined the Livingston Awards in 2005 as a regional judge.
From the emergence of ISIS in Syria to the hidden history of the NFL and concussions to the secret reality of rape on the job for immigrant women, Aronson-Rath oversees Frontline's acclaimed reporting and directs the series' evolution and editorial vision. She has developed and managed nearly 30 in-depth, cross-platform journalism partnerships with outlets including ProPublica, The New York Times and Univision. Under her leadership, "Frontline" has won every major award in broadcast journalism and dramatically expanded its digital footprint.
Prior to "Frontline," Aronson-Rath worked at ABC News and The Wall Street Journal. She earned her bachelor's degree from the University of Wisconsin and her master's from Columbia Journalism School.