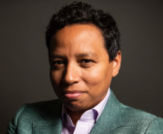 Head of Content, Gimlet
National Judge
Lydia Polgreen is an award-winning journalist and media executive who currently serves as Head of Content at Gimlet, a podcast studio at Spotify.
Prior to that, she served as editor in chief of HuffPost following a 15-year career at The New York Times that included roles as associate masthead editor, deputy international editor, South Africa bureau chief, a correspondent for the New Delhi bureau and chief of the West Africa bureau.
Before joining The Times, Polgreen was a staff writer for the Orlando Sentinel and the Albany Times Union. She was a 2006 recipient of the George Polk Award for foreign reporting. She received the 2009 Livingston Award for international reporting for her series, "The Spoils," an account of how mineral wealth brought misery and exploitation to much of Africa. In 2011, Polgreen was awarded the Columbia University Medal for Excellence.