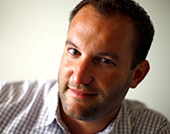 Co-founder, Fearless Media and Host, "Left, Right & Center" KCRW (Los Angeles)
Regional Judge
David Greene co-founder of Fearless Media and the host of Religion of Sports and PRX's podcast "In the Moment with David Greene," and KCRW's weekly politics show "Left, Right & Center." Previously he spent 15 years at NPR, serving eight years as host of "Morning Edition."
He was NPR's Moscow correspondent covering the region from Ukraine and the Baltics, east to Siberia. He spent a month in Libya reporting riveting stories in the most difficult of circumstances as NATO bombs fell on Tripoli. He was honored with the 2011 Daniel Schorr Journalism Prize from WBUR and Boston University for that coverage of the Arab Spring.
Greene covered the White House for all four years of President George W. Bush's second term, spending hours in NPR's spacious booth in the basement of the West Wing (it's about the size of your average broom closet). He also spent time trekking across five continents, reporting on White House visits to places like Iraq, Afghanistan, Mongolia, Rwanda, Uruguay – and, of course, Crawford, Texas.
During the days following Hurricane Katrina, Greene was aboard Air Force One when President Bush flew low over the Gulf Coast and caught his first glimpse of the storm's destruction. On the ground in New Orleans, Greene brought listeners a moving interview with the late Ethel Williams, a then-74-year-old flood victim who got an unexpected visit from the president. Greene was an integral part of NPR's coverage of the historic 2008 election, covering Hillary Clinton's campaign from start to finish, also focusing on how racial attitudes were playing into voters' decisions. The White House Correspondents Association took special note of Greene's report on a speech by then-candidate Barack Obama, addressing the nation's racial divide. Greene was given the association's 2008 Merriman Smith award for deadline coverage of the presidency.
Before joining NPR in 2005, Greene spent nearly seven years as a newspaper reporter for The Baltimore Sun. He covered the White House during the Bush administration's first term, and wrote about an array of other topics for the paper: Why Oklahomans love the sport of cockfighting, why two Amish men in Pennsylvania were caught trafficking methamphetamine and how one woman brought Christmas back to a small town in Maryland.
Greene graduated magna cum laude from Harvard in 1998 with a degree in government. There he worked as the senior editor on the Harvard Crimson. In 2004, he was named co-volunteer of the year for Coaching for College, a Washington, D.C., program offering tutoring to inner-city youth.