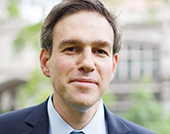 Op-Ed Columnist, The New York Times
National Judge
Stephens is an op-ed columnist for The New York Times. Previously, he was the foreign-affairs columnist for The Wall Street Journal, a member of the Journal's editorial board and the deputy editor of the editorial page, responsible for international opinion. Stephens became a Livingston Awards judge in 2017.
Stephens was awarded the 2013 Pulitzer Prize for Commentary for his column "Global View," receiving the honor for "his incisive columns on American foreign policy and domestic politics, often enlivened by a contrarian twist." He is an on-air contributor on MSNBC.
Bret Stephens joined the Journal in 1998, worked for the paper in New York and later in Brussels. In January 2002, he was named editor-in-chief of The Jerusalem Post, a position he assumed at age 28. At the Post he was responsible for the paper's news, opinion, digital and foreign-language operations, and also wrote a weekly column.
Stephens returned to the Journal in late 2004. He has reported stories from around the globe and interviewed scores of world leaders. He has received numerous journalistic awards and commendations, and holds three honorary doctorates. His book "America in Retreat: The New Isolationism and the Coming Global Disorder" was published to wide acclaim in 2014.
Stephens was born in New York, but spent his childhood in Mexico City. He graduated with honors from the University of Chicago in 1995 and has a Master of Science from the London School of Economics.