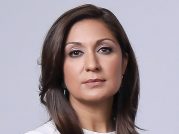 Chief Correspondent
Regional Judge
Amna Nawaz serves as chief correspondent and primary substitute anchor for "PBS NewsHour," where she has reported on politics, foreign affairs, education, climate change, culture and sports. Beginning January 2, 2023, she will serve as co-anchor of the daily program. In December 2019, Nawaz co-moderated the PBS NewsHour/Politico Democratic Presidential Primary Debate, becoming the first Asian American and the first Muslim American in history to moderate a presidential debate.
Previously Nawaz was an anchor and correspondent at ABC News, anchoring breaking news coverage and leading the network's digital coverage of the 2016 presidential election. Before that, she served as a foreign correspondent at NBC News, reporting from Pakistan, Afghanistan, Syria, Turkey, and the broader region. She is also the founder and former managing editor of NBC's Asian America platform, built to elevate the voices of America's fastest-growing population.
Nawaz began her career as a Nightline Fellow at ABC News. When the Sept. 11 attacks happened just weeks into her first job, Nawaz was given the opportunity to work on one of the most important news events in recent times, which set the precedent for the rest of her career.
Nawaz has been honored with a Peabody Award, an Emmy Award and was a recipient of the International Reporting Project fellowship in 2009. She earned a bachelor's degree from the University of Pennsylvania, where she captained the varsity field hockey team, and later earned her master's degree from the London School of Economics. She lives with her husband and two daughters in the Washington, D.C. area.