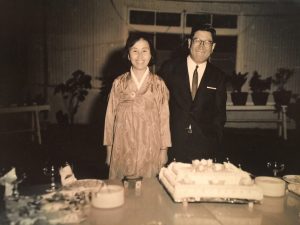 Staring at video of the Samsung chairman allegedly with prostitutes, I knew this trip to Korea would differ from my past visits.
The hidden camera footage was published by Newstapa, an investigative group formed in 2012. The newsroom was one of the first stops for the Knight-Wallace Fellows and signaled I'd be seeing the country from new perspectives.
My last trip to Seoul was more than 20 years ago, when I was in high school. Upon arriving for childhood visits, my conservative grandparents would take my brother and me shopping for stuffy clothes and make us wear them to a formal restaurant. The ritual made me see new clothing and the entire country of Korea as suffocatingly superficial.
Yet after learning the Fellows were headed to Korea, I grew excited about returning with a reporter's mindset. I read up on modern Korean history and politics and began to see the country's vibrancy.
Among our stops were a museum of antique Korean furniture, the taping of a K-pop TV competition, and a U.S. military base. We also went to the Demilitarized Zone, which jarringly played to tourists with cardboard cutouts of soldiers for photo ops while also reminding us of the peninsula's tragic past.
Our visit would take on added significance weeks later, when the leaders of North and South Korea would meet at the same site to discuss denuclearization and perhaps formally ending the Korean War.
Back at the Newstapa office, our host was a young woman who left her job with the police force to become a reporter, inspired in part by the movie "Spotlight." She wore a modern black hanbok that gave her an authoritative presence as she explained libel laws that allow journalists to be criminally charged.
Newstapa nevertheless published video that appears to show the Samsung chairman with prostitutes. Adding to the intrigue, the tapes were apparently obtained for blackmailing purposes before ending up with Newstapa.
It was ethically messy, making the decision to publish all the more daring.
Newstapa's model of relying on reader donations is also provocative. The idea is to gain public support as an independent news source in a society where conglomerates have huge power. The approach is a challenge to news outlets around the world.
Outside newsrooms, some of the best moments were unscheduled, such as people watching on the subway and wandering alone on the striking campus of Ewha University. Over a late night coffee, a friend who works as a TV sports analyst explained his quest to emulate the argumentative style of New York sports radio. I laughed imagining a Korean version of "Mike and the Mad Dog."
The highlight of the trip, though, was returning to my grandparents' apartment, which was largely unchanged from my childhood. My grandfather died of stomach cancer years ago and my grandmother has Alzheimer's disease, making it too late to ask about their pasts. But I dug out stacks of old photo albums I had never bothered looking at before.
The black-and-white images showed them in unfamiliar contexts – smiling on a train, mingling at a garden party, wandering down a Seoul alley. I realized how little I knew about their lives, which spanned Japanese colonialism, the Korean War and the country's economic boon.
Growing up, I thought my grandparents were overly conservative and limited in their worldview, traits I chalked up to their Korean background. In the years since, I've come to see the immaturity of those judgments, a realization this trip helped underscore.
Candice Choi is a 2018 Knight-Wallace Fellow and Food Industry Writer for the Associated Press (New York, N.Y.).