By Lynette Clemetson
By now, most journalists can rattle off the grim statistics. Since 2004, nearly 1,800 newspapers have closed across the country, leaving news organizations increasingly concentrated in coastal cities while newsrooms across the Midwest either shrink or disappear. The resulting information gap has fostered regional isolation and resentment with costly social and political implications. Wallace House is taking a step toward addressing this disparity with the Knight-Wallace Midwest News Fellowship, a new offering within the Knight-Wallace Fellowships for Journalists to revitalize local and regional news in the Midwest.
The Knight-Wallace Midwest News Fellowship, launched with a gift from Ann Arbor entrepreneurs and philanthropists Dug and Linh Song, will offer dedicated support to founders, editors and senior staff of journalism projects focused on local and regional news in the Midwest. The Midwest News Fellowship has all the features of a traditional Knight-Wallace Fellowship – including a $75,000 stipend, health insurance and international travel – with added elements specific to the needs of news innovators trying to restore coverage and build sustainable business models in underserved markets and news deserts.
Midwest News Fellows will team with advisors from entrepreneurship programs at the University of Michigan Law School and Ross School of Business to address the goals and challenges of their journalism ventures. They will remain connected to their organizations while in the program and will receive up to six months of mentorship post-fellowship to implement what they learned.
Deadline to Apply Feb 1
Applications are now open, and the deadline to apply is February 1, 2020. Applicants must be based in and working on journalism ventures in the Midwest: Illinois, Indiana, Iowa, Kansas, Michigan, Minnesota, Missouri, Nebraska, North Dakota, South Dakota, Ohio and Wisconsin. Our goal is to select two Midwest News Fellows to join the 2020-2021 Knight-Wallace Fellowship class. The Midwest News Fellowship is open to a wide range of ventures: local, state and regional; general news and topic-driven; those with a focus on institutional accountability and those with a focus on elevating community voices; text, visual, audio and data-driven.
Local News Disappearing
The newsroom closings of the past 15 years account for one-fifth of the nation's newspapers, ranging from metro dailies to rural weeklies, according to a 2018 report by the Center for Innovation and Sustainability in Local Media at UNC Chapel Hill. The disappearance of local news is detrimental everywhere. But between the coasts, the consequences have been severe.
"In 2009, Ann Arbor became the first American city to lose its only daily newspaper. We can see, all around us, the social costs of expanding news deserts across the country," said Dug Song, co-founder of Duo Security and Wallace House Executive Board member. "It is fitting and meaningful to have this support for new Midwest journalism efforts coming out of Ann Arbor through the Knight-Wallace Fellowships."
A map and searchable database accompanying the UNC report paints a picture of the Midwest heavy with closures, mergers and "ghost" publications that are barely surviving.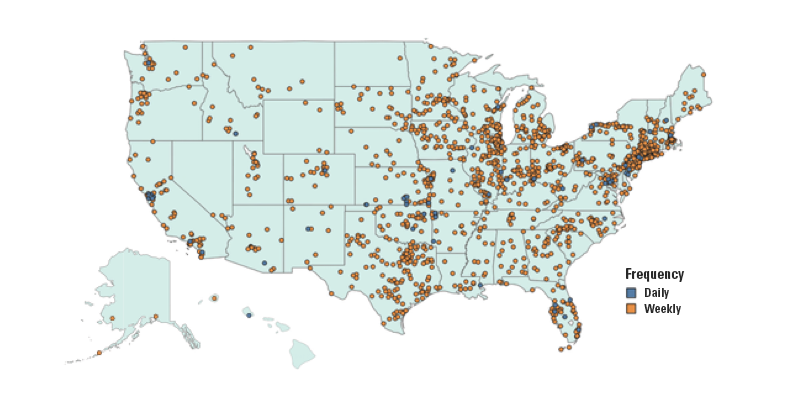 Changing that map requires dedicated training, mentorship and financial support. Wallace House and the University of Michigan are distinctly positioned to lead the way in tackling these challenges. Together they can provide journalism innovators access to resources and experts to create sustainable solutions for the region.
The most significant departure from our traditional model is that the Midwest News Fellows will remain connected to their organizations during the program and will work closely with faculty consultants on real-time development of their core business or project.
"If fellowships are going to remain relevant to the needs of the industry, they have to operate more like start-ups," said Louise Kiernan, editor-in-chief of ProPublica Illinois and a member of the Wallace House Executive Board. "These fellowships are so valuable, but they have to be willing to try new models, to test and learn and tweak and move on."
Selection Committee
Kiernan will be among a small group of journalists and leaders who will help me steer and evaluate this new fellowship. Joining her will be Sarah Alvarez, founder and director of Outlier Media in Detroit, Michigan; Peggy Lowe, former Knight-Wallace Fellow and investigative reporter for KCUR public media in Kansas City, Missouri; Dana Thompson, clinical professor of law and founding director of Michigan Law's Entrepreneurship Clinic; Matt Thompson, editor-in-chief of Reveal from The Center for Investigative Reporting; and Stewart Thornhill, professor of entrepreneurial studies at the Ross School of Business and executive director of the Zell Lurie Institute.
A Focus on Innovation
We have a sense of who we think can gain the most from this fellowship. We're focused on founders and senior leaders of organizations and projects launched within the last five years.  That's our starting point. We'll assess the applicant pool and respond as needed. Recipients of the fellowship will help us evaluate the structure and make it stronger.
One thing we know for sure is the transformative possibility of a Knight-Wallace Fellowship and the strength of our fellowship network. Two Fellows is a modest start, a pebble in an ocean (or Great Lake, as it were). But imagine what starts to take shape after a few years – a network of Midwestern journalists, connected to one another, with a shared commitment to revitalizing journalism in the middle of the country and the experience, tools and institutional support to try to make it happen.
Take another look at that news desert map. It is time we work together to revitalize journalism in the middle of the country.
Lynette Clemetson is the Charles R. Eisendrath Director of Wallace House. She was a 2010 Knight-Wallace Fellow. For questions about the Midwest News Fellowship contact her at MidwestFellowship@umich.edu.