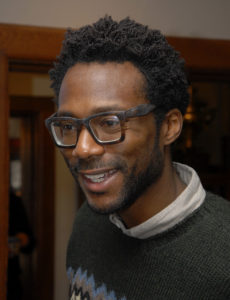 Mosi Secret, Knight-Wallace Fellows Class of 2016, shares on Medium how his Fellowship year changed the trajectory of his professional life and how it impacted his personal life.
He explains why he left his job as a reporter for The New York Times, a position that for many represents the pinnacle of American journalism. 
He discusses how it felt walking away from his comfortable life in New York in pursuit of what he describes as an ill-defined dream. Secret maintains that his time at the University of Michigan was the beginning of a march toward a deeper and more sustainable sense of happiness and professional satisfaction.
"If you're thinking of changing your life and career," said Secret, "there's no time like the present. Apply." Learn more what about what attracted him to the program.
The Knight-Wallace Fellowships for Journalists at the University of Michigan are accepting applications from U.S. applicants for the 2018-19 academic year. We're looking for accomplished, mid-career journalists eager for growth and deeply committed to the future of journalism. The deadline to apply is February 1, 2018.
Read Mosi Secret's reflection on his fellowship year on Medium.
Mosi Secret was a member of the Knight-Wallace Fellows Class of 2016. He is an independent journalist based in Brooklyn, NY.  Find out more about what Mosi Secret has been doing post-Fellowship.