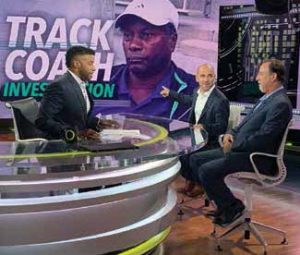 It was a story that needed to be told, a story of young lives wrecked by alleged sexual abuse by a respected coach and mentor. And yet it was a story that may have never been told, were it not for the collaboration of former Knight-Wallace Fellows Mike Kessler '17 and Greg Amante'16, who, along with investigative journalist Mark Fainaru-Wada, broke the news for ESPN's "Outside the Lines" about Conrad Mainwaring, a 67-year-old track coach and former Olympian now accused of molesting 41 boys over the course of 44 years.
Mike was a Fellow when he first learned about the allegations against Mainwaring. It was the fall of 2016, and he was just settling in to life at Wallace House. One day he got a phone call from an acquaintance named Andrew Zenoff, who had a story he wanted to share about his late brother, Victor. In the 1970s, beginning at the age of 12, Victor had attended a boys' sports camp for several summers at Camp Greylock in Massachusetts, where Conrad Mainwaring was a much-admired counselor. Friendly, easygoing and a natural athlete, Victor's young life had abruptly veered off course after his time at Greylock, spiraling downward into drugs and self-destructive behavior that left his family struggling for answers. Then, just weeks before his death in a hiking accident at the age of 18, Victor revealed to his mother that he'd been sexually abused by Conrad Mainwaring. Now, decades later, Andrew Zenoff wanted the world to know what Mainwaring had done.
The problem was, Mike was unable to pursue the story. One of the conditions of the Fellowship is to agree to put aside professional work for the duration of the program. Mike remembers feeling frustrated with this, but he noted that he needed this time for himself."The point is to step away from your primary life and not be consumed by your usual work." Still, knowing how important Zenoff's story was, Mike passed it along to another journalist.
Back working freelance in Los Angeles in 2018, Mike discovered that the story he had passed along had floundered. Determined to not let it slip away again, he tracked down half a dozen accusers willing to go on the record with their own accounts of sexual abuse by Mainwaring. He then approached former Knight-Wallace Fellow and ESPN producer Greg Amante '16 with a proposal to write a magazine piece for ESPN. Mike and Greg had met in Ann Arbor in 2016. A recent graduate of the Fellowship at the time, Greg and his partner Debra had reached out to Mike and his wife when they arrived at Wallace House, and the two couples had become friends. As Mike recalls, "Greg and I got to talking about how fun it would be to work on something together." Now, two years later, that day had come.
"I believe each of us enjoyed the feeling that we were not just doing something for ourselves, but also something positive for the Knight-Wallace Fellowship program, perhaps laying the blueprint for future collaborations between Fellows." – Greg Amante '16, ESPN producer
With Greg's backing as a producer, and with the support of editors Mike Drago and Chris Buckle, along with ESPN Vice President and KWF board member Kevin Merida (who presented a seminar at Wallace House during Mike's Fellowship year), Mike teamed up with investigative journalist Mark Fainaru-Wada. What had begun as a possible twelve-week magazine piece quickly grew into an investigation that would stretch over a year. The challenges were immense. For the four decades Mainwaring was alleged to have carried on his abuse of young boys, he'd led a life of secrecy, moving from one prestigious university to another as a track coach and counselor, keeping his past and his whereabouts hidden. Working together, Mike, Greg and Mark gathered hundreds of hours of interviews from dozens of people, in an investigation that spanned two continents. In the end, 41 survivors of sexual abuse ranging in ages from 22 to 59 came forward. On June 19, 2019, Conrad Mainwaring was arrested in Los Angeles for felony sexual battery. Less than two months later, on August 1, "Outside the Lines" released the story that Mike, Greg and Mark, with the support of their colleagues at ESPN, had worked so hard to produce.
Looking back on their efforts, Greg says: "I believe each of us enjoyed the feeling that we were not just doing something for ourselves, but also something positive for the Knight-Wallace Fellowship program, perhaps laying the blueprint for future collaborations between Fellows." As for Mike, he sees their collaboration as a game-changer. "If I hadn't met Greg, I wouldn't have had the support of ESPN on such a massive scale." He goes on to credit the Knight-Wallace Fellowship and his time at Wallace House. "Not to sound corny, but KWF gave me a chance to think about my career in a more holistic way, to let my mind wander and see what happens. That can also be very unnerving – that not-knowing – but I think it was a huge service to my personal and career growth."
Travis Holland has been leading writing workshops at Wallace House since Fall 2008.  He is the author of "The Archivist's Story," and a contributing editor at Fiction Writers Review.