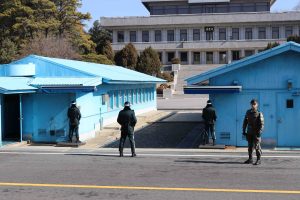 To be a journalist often is to be the skunk at a garden party.
And I certainly felt my skunk-like tendencies kick into gear as I watched the beautifully choreographed Inter-Korean Summit between North Korean leader Kim Jong-un and South Korean President Moon Jae-in on live TV.
The optics were no doubt powerful and emotional: on a sunny morning in late April, Kim Jong-un strolled up to the Military Demarcation Line that has divided the Korean peninsula for the last 65 years, reached across, and shook hands with President Moon. Then he stepped over the low curb that marks the border, shook hands again, and then took President Moon by the hand and stepped back over the border together onto North Korean soil.
It was undoubtedly a significant moment. The two heads of state later would emerge from their talks with plans to formally end the Korean War and work toward denuclearization. When I stood at roughly that same spot about 50 days earlier gazing into North Korea with other Knight-Wallace Fellows, the situation was much more tense. For months the world seemed on the brink of all-out war, with leaders on both sides making increasingly bellicose public statements.
So the sight of the two Korean leaders holding hands offered a much needed glimmer of hope in what had become a hopeless situation. For me as a Korean American, the idea of peace between the two Koreas is particularly powerful as every Korean family's personal history is intertwined with painful reminders of those darkest days of the Korean War.
As I watched this historic event unfold on live TV, I knew this was a big deal. But the skunk in me couldn't help but stink up the room.
What will denuclearization look like? What about the Kim regime's blatant human rights abuses? What are Kim Jong-un's true motives? This is, after all, the same man who reportedly had two of his senior officials executed in 2016 using an anti-aircraft gun, a weapon normally reserved, as the name suggests, for aircraft.
Yes, journalists can be party poopers. It's why North Korea remains dead last on the annual World Press Freedom Index, which ranks nations according to the level of freedom available to journalists.
South Korea, on the other hand, has come a long way in promoting a free press. During our fellowship tour of the country, we had a private screening of the 2017 film "A Taxi Driver," which depicted the 1980 Gwangju massacre, a horrific event in which South Korean soldiers and government-backed thugs murdered untold numbers of pro-Democracy demonstrators. The movie showed how news organizations were either silenced or complicit in spreading the government's misinformation.
Fast forward 38 years and that same country has now surpassed the United States on the World Press Freedom Index.
While that's a positive sign for South Koreans (and a really troubling one for Americans), it also goes to illustrate an important point: the distance between freedom and tyranny is often very short. It took Kim Jong-un only a few minutes to stroll forward into a world of press freedom that April morning; it took his limousine only a few seconds to ferry him back.
Throughout our tour, we learned that the South made great strides in building and strengthening democratic institutions since the ceasefire almost a lifetime ago. That's good news. But the skunk in me thinks that the lesson for any democracy is that it's always easier to tear down than to build.
Robert Yoon is a political journalist and the Howard R. Marsh Visiting Professor of Journalism at the University of Michigan.