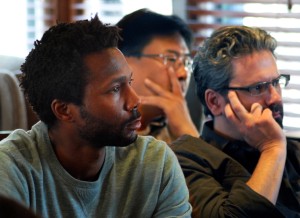 Applications are open for the 2017-18 Knight-Wallace Fellowships for Journalists, and there has never been a better time to apply. We are adapting how the fellowship works, infusing new ideas into some of the longstanding qualities that have made our program unique. And we are expanding our connections to the larger journalism world, ensuring that our programs and activities are responsive to the changing needs of news organizations and to the needs of journalists who want to build new and deeper skills.
Our goal at Wallace House is simple. We seek to sustain and enrich journalism by sustaining and enriching journalists. We believe that there is a tangible benefit to stepping away from the grind for a period of focused study and collaborative sharing of expertise. And we know that benefit extends far beyond the individual journalists chosen as Fellows. It flows back into the news organizations and broad networks from which our Fellows come.
If you've seen images of Wallace House, you may have felt the pull of its quaint, Craftsman charm. It is true; we have a uniquely warm and welcoming home base. But the best part of what happens here is the mischief and boundless possibility we foster inside our walls. Journalists can be creatures of habit. So our program is intentionally structured to shake up routines to challenge assumptions and to nudge people out of professional and personal ruts. We seek to unsettle, and in doing so to empower our Fellows to envision new applications for their talents.
How does it all work? Our magic happens through a mix of academic immersion, Fellowship seminars, adventurous travel and good old-fashioned down time and bonding. An average week could include:
An entrepreneurship class with MBA students in the Zell Lurie Institute in the Ross School of Business
A course in screenwriting, environmental justice or the history of Hip-Hop music and culture
A private workshop on encryption with experts from the School of Information
A storytelling seminar with a visiting journalism leader from Vox Media, The New York Times or NPR
A family-style dinner for 25 featuring Caribbean rice and peas, Southwestern root vegetable enchiladas or German sauerkraut and beef, all prepared in the Wallace House kitchen by your fellow Fellows.
And that is an average week on campus. On our travel weeks, we work to extend that same dynamic mix of intellectual stimulation to group trips outside of Ann Arbor. We may be exploring the burgeoning business, arts and culture scene in Detroit, or picking apples and hiking in Northern Michigan. In this 2016-17 academic year we are taking our Fellows to South Korea and Brazil where we will meet with journalists, political leaders, business executives, academic experts and cultural influencers.
If it sounds fun, it is! But don't be fooled into thinking of it as "time off." Yes, it is time away from your day job. But our schedule and expectations are rigorous. Fellows often find themselves overwhelmed by our plentiful offerings and exhausted by the syncopated rhythm of the days. There is a method to our approach. We believe you can absolutely hit upon a career changing idea working with a preeminent environmental scholar at the Graham Sustainability Institute. But we also believe your ah-ha moment might come while sledding down a bodacious hill with your kids in the depths of a Midwestern February, by meeting a K-Pop impresario in Seoul, or by exploring a contemporary art museum in the Brazilian rainforest.
We believe that awakening the mind and the senses produces sharper, more engaged journalists, and that sharper, more engaged journalists produce better journalism. It's not rocket science…though our Fellows have access to plenty of those, too, through the university's world class Aerospace Engineering Department.
Who are we looking for? Fellowship classes — like news organizations — are at their best when they contain a vibrant mix of backgrounds. Our program is designed to help Fellows learn from one another as much as from the academic and journalism experts who work with us. That means we'd like our applicant pool to include: daily reporters and bloggers; narrative and investigative reporters; web, video, audio and social media producers and editors; broadcasters and podcasters; visual and data specialists; designers and developers; engagement editors; and entrepreneurial project and product visionaries. We're a mid-career fellowship, so you need at least five years of experience working for news organizations or as a freelancer.
If you've been thinking of applying, now is the time to do it. Take it seriously. We know you are journalists, and you are hard-wired to procrastinate until painfully close to our deadlines. Our international application period closed on December 1. For U.S. applicants, the deadline is February 1. Don't wait too long. We only take a small number of Fellows each year, and the process is highly competitive.
Do your reporting. Talk to former Fellows and get working on your study plan. If you can, talk with your editor or manager about a project you could pursue that would benefit your newsroom or help your organization address a pressing challenge.
Don't fall back on clichés and what you think the selection committee will like. Take some time to really think about your passions, your skills, and something you'd like to achieve in your career. We are enthusiastic about the role our program has to play in the future of journalism, and we are looking for people who want to get their hands in the clay.
There is no place quite like Wallace House and no program quite like the Knight-Wallace Fellowships for Journalists.
We welcome you to apply.
Lynette Clemetson is the Charles R. Eisendrath Director of Wallace House.