I wrapped up my Knight-Wallace Fellowship in April 2018. Thirteen months later I was at Cipriani's in New York City, sharing the red carpet with Billy Porter and the cast of "The Good Place." I was there with my colleagues from Michigan Radio, accepting a Peabody Award for "Believed," our podcast about the women who brought down serial sexual predator Larry Nassar. I was the project's executive producer and head of a newly launched podcasting unit – two roles that seemed out of reach before the fellowship.
"Believed" is the first nationally-produced podcast by Michigan Radio, an NPR affiliate that covers news across the state. It is one of the most in-depth, significant projects that we've ever taken on as a newsroom and a station and it became the first podcast produced by a member station to be distributed by NPR. The series topped the Apple Podcast chart one week after its debut and remained in the top 30 throughout the next eight weeks. In addition, being recognized with a Peabody Award, my colleagues Lindsey Smith and Kate Wells received the Livingston Award for the podcast series. None of these honors mean as much to us as the many letters and emails we received from survivors who said they were moved by our story. They're the reason why we did the podcast: to help people understand how Nassar was able to abuse so many girls and women for so long, and how you could have missed it, too.
The podcast was a remarkable team effort: reporters, editors, producers, fact-checkers, lawyers. You can hear each of their names in the credits, along with a list of thank yous to folks who helped out on individual episodes.
The Knight-Wallace Fellowship wasn't mentioned in the credits, but it may as well have been. For me, the fellowship gave me the confidence and skills to advocate for myself as executive producer of this major new project. And it gave me time.
Time away from deadlines. Time to focus on craft. Time to envision the next phase of my career.
The Fellowship intentionally, methodically pushes reporters out of their comfort zones. For some, that means taking courses in rocket science or Russian literature. For others, it means taking a modern dance class and pushing past what it feels like to learn something new in a room with trained 20-year-olds who know what they are doing. The goal is to step beyond what we're used to in the newsroom and, instead, to sit in that moment of tension and discomfort and let it affect you.
I don't pretend to speak for everybody who's gone through the fellowship, but I can wholeheartedly say that for me, having the opportunity to step away from the daily news grind for nine months was liberating, and career-changing.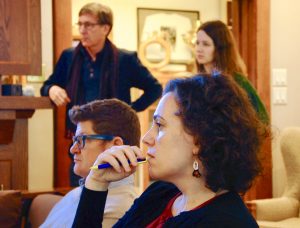 When I got to the University of Michigan, I thought about stories in terms of how they fit into four-and-a-half-minute radio features because that's what I knew how to do; it's what got me in the fellowship in the first place. But during those nine months as a Knight-Wallace Fellow, I got to entertain the possibility of something bigger. I spent hours talking to students about campus climate and civil discourse and explored new (to me) books in an ethnographic writing class with Ruth Behar. Jeremy Levine's class on nonprofit business strategies was particularly inspiring, and, with help from Wallace House director Lynette Clemetson, helped me hone my own plan for where I wanted to take my work. By the time I left the fellowship, I had developed a vision – and an editorial and business pitch – for how to create a podcast unit within Michigan Radio.
I took that pitch back to Michigan Radio and immediately started work on "Believed" as the executive producer. As an executive producer, I was responsible for the overall production and execution of the nine-episode podcast. Since "Believed," I've been working on podcasts full time. I'm now in charge of our nascent podcast unit and am currently developing limited-run and serialized shows for the station. We just released a five-part series about identity called "Same Same Different," featuring one of my incredibly talented fellow Fellows, Regina H. Boone. My team and I are hard at work on a narrative podcast that will drop around the 2020 election. Stay tuned!
All this is to say: Apply! I don't know how many times in your life you'll have the opportunity to talk anytime you want to with some of the smartest people on the planet, to spend time with journalists from all over the world, to take a minute to wonder about what stories the world really needs to hear, see and read right now… and to develop the methods and frameworks to tell them.
The Knight-Wallace Fellowships for Journalists at the University of Michigan are accepting applications from U.S. applicants for the 2020-21 academic year. We're looking for accomplished journalists eager for growth and deeply committed to the future of journalism. The deadline to apply is February 1, 2020.
Learn more about the Knight-Wallace Fellowship »
Jennifer Guerra was a 2017-18 Knight-Wallace Fellow and is Executive Producer of Special Projects at Michigan Radio, an NPR affiliate in Ann Arbor.