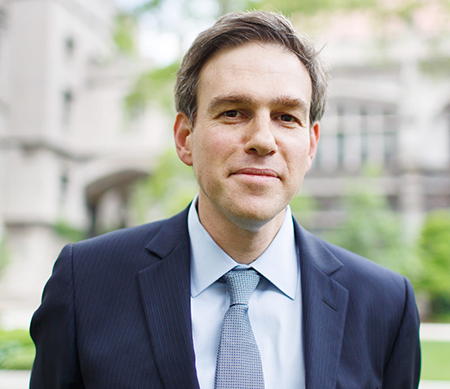 Wallace House is pleased to announce the addition of Bret Stephens of The Wall Street Journal to the Livingston Awards' national judging panel.
Stephens is the foreign-affairs columnist for The Wall Street Journal,  a member of the paper's editorial board and the deputy editor of the editorial page, responsible for international opinion. He was awarded the 2013 Pulitzer Prize in Commentary for his column "Global View," receiving the honor for "his incisive columns on American foreign policy and domestic politics, often enlivened by a contrarian twist." He is a regular panelist on "Journal Editorial Report," a weekly political show carried by Fox News.
Stephens joined the Journal in 1998, worked for the paper in New York and later in Brussels. In January 2002, he was named editor-in-chief of The Jerusalem Post, a position he assumed at age 28. At the Post he was responsible for the paper's news, opinion, digital and foreign-language operations, and also wrote a weekly column. Stephens returned to the Journal in late 2004. He has reported stories from around the globe and interviewed scores of world leaders.
"Recognizing and supporting high quality journalism is more important now than it has ever been," says Lynette Clemetson, director of Wallace House. "The Livingston Awards affirm the very best in our profession. Bret brings an impressive journalistic range and a keen eye for excellence across a variety of platforms and styles that will further bolster our accomplished group of judges."
In November, Livingston Awards announced the addition of María Elena Salinas of Univision News and Stella M. Chávez of the Houston NPR affiliate, KERA. Salinas joined the Livingston Awards national judging panels. Chávez joined the Livingston Awards regional judging panel.
The Livingston Awards national judges review all final entries and meet to select the winners in local, national and international reporting. In addition to Stephens and Salinas, the national judging panel includes: Christiane Amanpour, chief international correspondent, CNN; Ken Auletta, media and communications writer, The New Yorker; Dean Baquet, executive editor, The New York Times; John Harris, editor-in-chief and co-founder, Politico; Clarence Page, syndicated columnist; Anna Quindlen, author; and Kara Swisher co-founder and executive editor of Recode.
The regional judges read all qualifying entries and select the finalists in local, national and international reporting categories. In addition to Chávez, the regional judging panel includes: David Greene, host, "Morning Edition," NPR; Stephen Henderson, editorial and opinion editor, Detroit Free Press; Shirley Leung, columnist, The Boston Globe, Raney Aronson-Rath, executive producer, "Frontline," PBS and Amy Silverman, managing editor, Phoenix New Times.