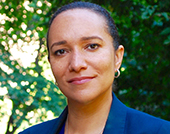 Director, National Center for Institutional Diversity and associate vice president for research, University of Michigan
Dr. Tabbye Chavous is the Associate Dean for Diversity, Equity, and Inclusion, Director of the National Center for Institutional Diversity (NCID), and a Professor of Education and Professor of Psychology at the University of Michigan.
NCID's mission is to produce, catalyze the production of, and elevate and disseminate diversity scholarship, or scholarship that furthers our understandings of historical and contemporary social issues related to diversity, equity, and inclusion. As associate vice president for research, Chavous supports the research efforts of faculty in the social sciences and humanities and the arts and develops and coordinates initiatives to catalyze interdisciplinary research collaborations for scholarly and public impact.
Along with her administrative roles, Chavous has been a faculty member at the university since 1998 and currently is a professor of psychology and education. Her research focuses on social identity development among ethnic minority adolescents and young adults in the context of education and how educational settings shape student identity, motivation, and achievement. She is also a co-director and co-principal investigator in the U-M's Center for the Study of Black Youth in Context, which focuses on conducting research and providing training for students and early career scholars around theory and methods for studying developmental and adjustment processes among diverse Black youth, families, and communities.