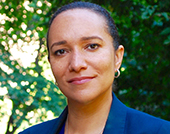 Vice Provost for Equity and Inclusion and Chief Diversity Officer, University of Michigan
Dr. Tabbye Chavous is the vice provost for equity and inclusion and chief diversity officer at the University of Michigan. She was previously the director of the university's National Center for Institutional Diversity (NCID).
Before her directorship of NCID, she served as chair of the Combined Program in Education & Psychology (CPEP) and as associate dean of academic programs and initiatives within the Rackham Graduate School at the University of Michigan. She is also a co-founder, co-director, and principal investigator in U-M's Center for the Study of Black Youth in Context (CSBYC), which focuses on conducting research and providing training for students and early career scholars around theory and methods for studying developmental and adjustment processes among diverse Black youth, families, and communities
Along with her administrative roles, Chavous has been a faculty member at the university since 1998. Her research focuses on social identity development among ethnic minority adolescents and young adults in the context of education and how educational settings shape student identity, motivation, and achievement.