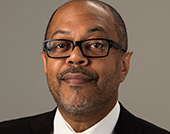 Executive Editor, Los Angeles Times
Kevin Merida is the Executive Editor of the Los Angeles Times. Prior to being named its top editor in May 2021, he was a senior vice president at ESPN and editor-in-chief of The Undefeated. He also oversaw investigative and enterprise journalism at ESPN, including the TV shows "Outside the Lines" and "E:60."
Before joining ESPN in November 2015, Merida spent 22 years at The Washington Post as a congressional correspondent, national political reporter, longform feature writer, magazine columnist and senior editor. He led the national staff for four years during the Obama presidency, and was managing editor overseeing news and features coverage for three years. During his stint as managing editor, The Post won four Pulitzer Prizes and embarked on a digital transformation that made it one of the fastest growing news organizations in the country.
Merida is the co-author of "Supreme Discomfort: The Divided Soul of Clarence Thomas" and "Obama: The Historic Campaign in Photographs." He is also the editor of "Being a Black Man: At the Corner of Progress and Peril," an anthology based on an award-winning Washington Post series.
Merida is on the Maynard Institute for Journalism Education's Board of Directors, and on the Board of Trustees for the Kaiser Family Foundation and Boston University, his alma mater.