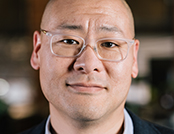 Chief Strategy Officer, Cisco Security
Dug Song is Chief Strategy Officer for Cisco Security. An innovator and leading voice in cybersecurity, Song founded Duo Security in 2010. Based in Ann Arbor, Duo now protects the data and information of more than 14,000 organizations. In 2018, Cisco bought the company for $2.35 billion, the largest acquisition ever for a Michigan-based software company.
Song is also a board member of Ann Arbor-based security startup Censys, a founding member of A2NewTech and an active participant in Tech Brewery, A2SkatePark, and the Entrepreneurs Foundation of Ann Arbor. He earned his bachelor's degree in computer science from the University of Michigan.