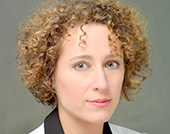 Associate Professor of Journalism, Brandeis University
Ann Silvio is an associate professor of journalism at Brandeis University. She was the correspondent of 60 Minutes' digital companion program "60 Minutes Overtime" and managing editor of 60 Minutes online. She joined the broadcast in 2010 to become the senior producer in charge of original online content and to lead the team launching "Overtime," the most successful digital companion in broadcast news.
Before joining 60 Minutes, Silvio spent more than a decade in print journalism, working at magazines and newspapers, including The Boston Globe, where she helped spearhead its pioneering multimedia efforts. While at The Globe, she produced, shot, and edited a multimedia documentary about the life of Ted Kennedy, which received an Emmy award and the American Society of News Editors' Jesse Laventhol Prize for Online Storytelling.
At 60 Minutes, Silvio directed the digital staff and oversaw the editorial programming for the program's websites. She hosted the weekly program that featured her interviews with the best of "60 Minutes," including Morley Safer, Bob Simon, Steve Kroft, Lesley Stahl, Scott Pelley, Oprah Winfrey, Anderson Cooper, Jeff Fager, Wynton Marsalis and others. Her interviews are known for providing deeper background and analysis on the stories of "60 Minutes."
A native of Detroit, Silvio is an alumnus of the University of Michigan and resides with her family in New Canaan, Connecticut.