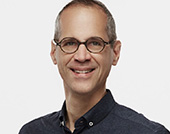 Editorial director and co-founder, Gimlet Media
Alex Blumberg is the editorial director and cofounder of Gimlet Media, the media company behind the podcasts "StartUp," "Reply All," "Homecoming," and more. An award-winning radio journalist, his work has won every major broadcast journalism prize, including the Polk, the duPont-Columbia, and the Peabody.
Prior to founding Gimlet, Blumberg worked for years in public radio, most notably for "Planet Money," which he co-founded at NPR, and "This American Life."
Blumberg has created radio documentaries covering such diverse topics as life aboard a U.S. aircraft carrier, teenage Steve Forbes supporters, and prisoners staging a production of Hamlet. His award-winning documentary on the housing crisis, "The Giant Pool of Money," was named one of the last decade's top ten works of journalism by the Arthur L. Carter School of Journalism and New York University.