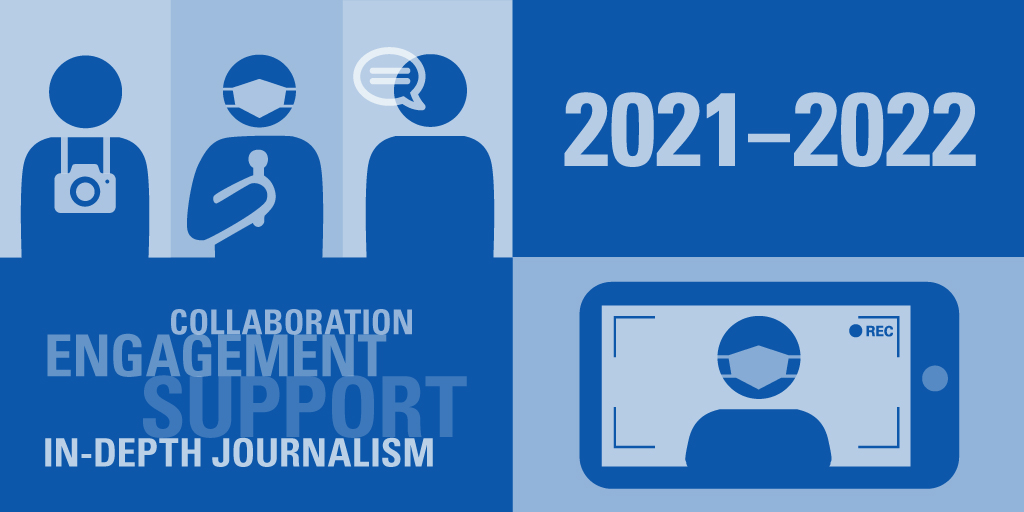 An Academic Year to Produce Ambitious Reporting on our Most Pressing Issues
Each year the Knight-Wallace Fellowships at the University of Michigan summon journalists to think boldly about their craft and enhance their skills to meet the needs of a changing industry. As the U.S. continues to grapple with a global pandemic and continuing economic, social, and political upheaval, ambitious reporting on efforts to move forward is essential.
The Knight-Wallace Reporting Fellowships will remain remote for the 2021-22 academic year, to respond to this unique period of transition. Applications are now open and are due on May 3. We held a Q&A Webinars on February 19 and April 1, to discuss the application process for interested applicants and newsroom editors.
The Knight-Wallace Reporting Fellowship will provide a $70,000 stipend over eight months plus $10,000 to support supplemental costs for reporting projects to be produced during the period of the fellowship. Our Knight-Wallace Reporting Fellows will participate in professional development and digital seminars with researchers and experts tackling challenges across a range ofields and disciplines. Fellows will have remote access to the world-class resources of the University of Michigan and regular opportunities for engagement with faculty and students.
We'll select a cohort of ten accomplished journalists with different backgrounds and experiences to pursue in-depth reporting projects that require time and resources. Selected Fellows will not be required to leave their place of work.
We're looking for proposals that step back from breaking and incremental coverage. Reporting projects may examine any issue or facet of society but should be timely and should involve capturing how the country and communities are grappling with change and moving toward solutions.
If in-person gatherings become possible and we can ensure a safe experience, we will host Fellows for two one-week sessions at Wallace House in Ann Arbor: one in the fall and one in the winter, culminating in an on-site symposium at the end of the academic year to highlight the reporting work produced during the fellowship.
A Focus on In-Depth Reporting
Published or produced work is a requirement of the fellowship. Applicants must submit a detailed reporting proposal related to the seismic challenges we now face. The output should match the proposed project and form of journalism. For instance, a documentary filmmaker might complete one film during the period of the fellowship; a long-form magazine writer might produce one or two published pieces; a community-based or enterprise reporter might produce a project that appears weekly or monthly.
Areas of focus can include but are not limited to science and medicine, the economy, law and justice, business, race and ethnicity, education, inequality, technology, the environment, and entertainment and recreation. Areas of coverage can be local, national or global.
The fellowship is not intended to support daily beat reporting that would be produced regardless of fellowship support. It is also not intended for book writing.
All work produced during the fellowship will be owned by the media organization for which it is produced and will carry an agreed-upon acknowledgment of support by the Knight-Wallace Fellowships for Journalists at the University of Michigan.
The program is open to staff, freelance and contract journalists. All applicants must have at least five years of reporting experience and be either a U.S. resident or hold a U.S. passport. Uncertainty around international travel and visa restrictions makes it difficult to sponsor non-U.S. residents at this time.
The Knight-Wallace Reporting Fellowship for the 2021-22 academic year is a working fellowship featuring
An eight-month program focused on supporting ambitious, in-depth, innovative journalism projects examining our most pressing public challenges including but not limited to social shifts precipitated by the pandemic, the nation's deep political divisions and persistent social justice issues surrounding race, ethnicity and inequality

A remote structure that allows reporters to remain where they live

A cohort of ten Fellows selected from a pool of experienced journalists from a variety of beats and expertis

e

A $70,000 stipend to support reporting and fellowship participation dispersed monthly from September 2021 through April 2022

An additional $10,000 in supplemental support to cover extra costs including health insurance, reporting equipment and travel-related reporting expenses

Weekly remote seminars with University of Michigan faculty and subject matter experts from a wide range of fields

Professional development and supplemental skills workshops
Subject to public health guidance, two one-week Fellowship Cohort sessions held at Wallace House on the University of Michigan campus in Ann Arbor with travel, lodging and hosting expenses covered by the program
A year-end symposium at the University of Michigan highlighting work produced during the fellowship
Application Deadline is May 3
Applications are now open. The deadline to apply is at 11:59 pm ET on Monday, May 3.
The Reporting Fellowship offers will be extended at the end of June.
An Invitation to Learn More
For more information on the fellowship and how to apply, Wallace House Director Lynette Clemetson, and Associate Director Robert Yoon held a Q&A webinar at 12:30 pm ET on Friday, February 19. Interested applicants were invited to join and ask questions. Newsroom editors who would like to know more about this opportunity for reporters on their team were also welcome to join. You can view the recording of the webinar on-demand here.
A Q&A webinar for editors was held on April 1 at 12:30 PM ET. You can watch the recording of the webinar here.
More About the Reporting Fellowship