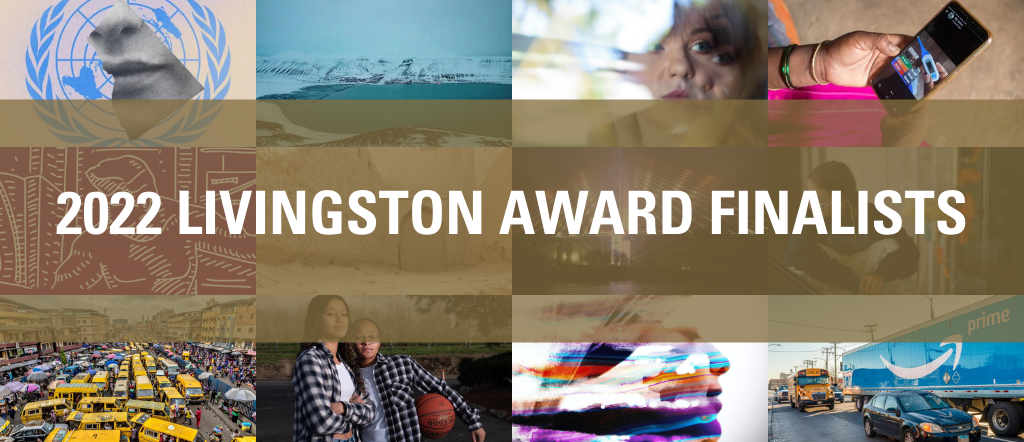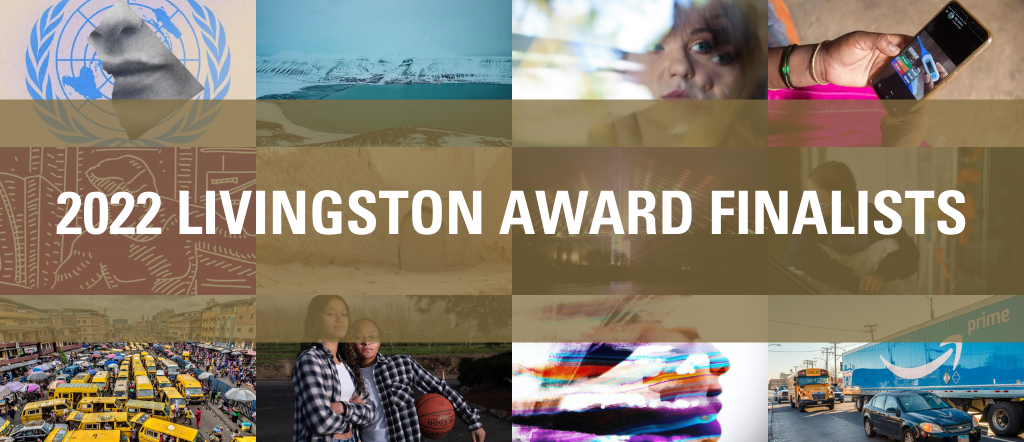 Wallace House and the University of Michigan announced today the 2022 Livingston Awards finalists in local, national, and international reporting. The awards support young journalists and honor the best reporting and storytelling by journalists under the age of 35 across all forms of journalism. The 52 finalist selections were chosen from more than 450 entries for work released in 2021.
This year's winners will be announced on June 8, 2022, at an in-person awards ceremony hosted by Dean Baquet, long-serving Livingston Award judge and executive editor of The New York Times.  
"As the world continues to move through various types of upheaval, it's encouraging to see younger journalists taking on and tackling important and complex stories," said Wallace House Director Lynette Clemetson, Wallace House Director. 
Celebrating its 41st year, the awards bolster the work of young reporters, create the next generation of journalism leaders and mentors, and advance civic engagement around powerful storytelling. The sponsors include the University of Michigan, Knight Foundation, the Indian Trail Charitable Foundation, the Mollie Parnis Livingston Foundation, Christiane Amanpour, the Fred and Judy Wilpon Foundation, and Dr. Gil Omenn and Martha Darling.
The Livingston Awards regional judges read all qualifying entries to select the finalists in local, national and international reporting. The regional judging panel includes Molly Ball, national political correspondent, TIME; Stella Chávez, immigration and demographics reporter, KERA Public Radio (Dallas); Chris Davis, executive editor and Vice-President of Investigative Journalism, Gannett; David Greene, host, "Ukraine Stories," Fearless Media; Stephen Henderson, host, "Detroit Today," WDET; Shirley Leung, columnist and associate editor, The Boston Globe; and Amna Nawaz, senior national correspondent, PBS "NewsHour."
The Livingston Awards national judges review all finalist entries and select the winners. The national judges are Raney Aronson-Rath, executive producer, "FRONTLINE"; Ken Auletta, author and media and communications writer, The New Yorker; John Harris, co-founder, POLITICO; Matt Murray, editor in chief, The Wall Street Journal; Clarence Page, syndicated columnist; Lydia Polgreen, head of content, Gimlet; Anna Quindlen, author; María Elena Salinas, contributor, ABC News; Bret Stephens, op-ed columnist, The New York Times; and Kara Swisher, executive producer, Code Conference and host of the podcasts "Sway" and "Pivot."
We present the 2022 Livingston Awards finalists and invite you to review their work here.
Local Reporting
Jessica Bakeman, New York Magazine
Sarah Blaskey, Miami Herald
Zoë Carpenter, The Nation
Rebecca Ellis, Oregon Public Broadcasting
Callie Ferguson, The Bangor Daily News
Amelia Ferrell Knisely and Molly Born, Mountain State Spotlight and The GroundTruth Project
Marie J. French, POLITICO
Amy Julia Harris, The New York Times
Madison Hopkins and Cecilia Reyes, Better Government Association and the Chicago Tribune
Cary Junior II, Detroit Free Press
Mark Keierleber, The 74
Danae King, The Columbus Dispatch
Kate McGee, The Texas Tribune
Mandy McLaren, The Courier-Journal (Louisville, KY)
Brittny Mejia, Los Angeles Times 
Jessica Miller, Paighten Harkins, Abby Ellis, Taylor Eldridge, Sam Stecklow and Muna Mohamed FRONTLINE in partnership with The Salt Lake Tribune
Jessica Seaman, The Denver Post
Andrew Seidman, The Philadelphia Inquirer
Alex Stuckey, Houston Chronicle
Evey Wilson Wetherbee, Georgia Public Broadcasting 
 National Reporting
Jess Bidgood, The Boston Globe
Jamelle Bouie, The New York Times
Tony Briscoe, ProPublica
Claire Hannah Collins, Los Angeles Times
Maddy Crowell, The Atavist Magazine
Jose A. Del Real, The Washington Post
Hannah Dreyfus, ProPublica
Katelyn Ferral, Milwaukee Journal Sentinel
Maggie Freleng and Julieta Martinelli, Futuro Media/PRX
Drew Harwell, The Washington Post
Baxter Holmes, ESPN
Lauren Leatherby, The New York Times
Claire McNear, The Ringer
Laura C. Morel and Mohamed Al Elew, Reveal from The Center for Investigative Reporting
Cecilia Nowell, New York Magazine's The Cut
Rita Omokha, ELLE
Lizzie Presser, ProPublica
Roman Stubbs, The Washington Post
Saidu Tejan-Thomas Jr., Gimlet Media
Kaveh Waddell and Maanvi Singh, Consumer Reports and The Guardian
 International Reporting
Rachael Bale, National Geographic
Max Bearak, Júlia Ledur and Dylan Moriarty, The Washington Post
Khalid Bencherif, In These Times
Olivia Carville, Bloomberg Businessweek
Gloria Dickie, Scientific American 
Thomas Gibbons-Neff, The New York Times
Sanket Jain, The Verge (Vox Media)
May Jeong, New York Magazine
Olivia Konotey-Ahulu, Bloomberg News
Erika Lantz and Elin Lantz Lesser, Rococo Punch and iHeartRadio
Louisa Loveluck and Mustafa Salim, The Washington Post
David Mora, VICE News