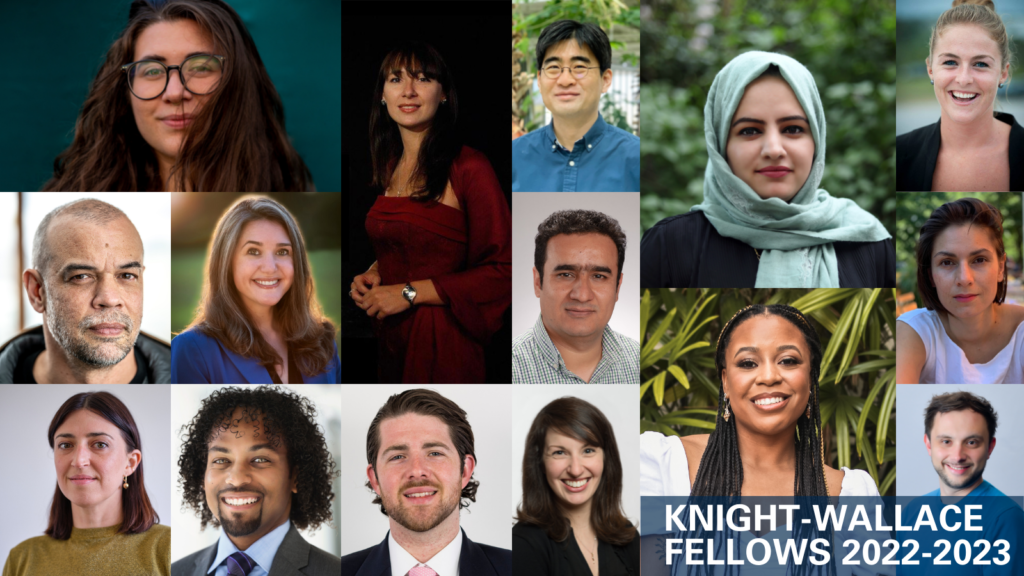 Today the University of Michigan named the Knight-Wallace Journalism Fellows for the 2022-2023 academic year. After rewarding experiences with two remote fellowship classes, Wallace House will welcome a cohort of 15 journalists to the University of Michigan campus for the return of our in-person fellowship starting in the fall semester. 
The Knight-Wallace Journalism Fellowships offer an academic year of study, collaborative learning and access to the resources of the University of Michigan for journalists to pursue ambitious journalism projects.  


"Journalists responded to the challenges of the past two years with resilience and resolve. Wallace House, too, met the moment with creativity and commitment to support journalists in new and nimble ways," said Lynette Clemetson, director of Wallace House. "In addition to tackling in-depth reporting and research during the fellowship, this talented cohort of journalists will pursue solutions to help newsrooms evolve. We look forward to the truths they will uncover, the voices they will amplify, and the paths they will forge." 
Fellowship support includes a $75,000 stipend over eight months, the opportunity to audit courses across the university, professional development workshops and private seminars with journalism leaders and world-renowned experts. Fellows will reside in the Ann Arbor area and enjoy gatherings and activities in the comfort of Wallace House, a gift from the late newsman Mike Wallace and his wife, Mary.
The return to the residential program includes a focus on individual journalism projects. The 2022-2023 Fellows' pursuits range from investigating pressing global crises including forced migration, the constraints of nationhood, attacks on press freedom and climate change to persistent domestic issues including inequitable policing, broken mental health systems and the exploitation of private information in the digital marketplace.
This is the 49th class of journalism fellows at the University of Michigan. The program is funded through endowment gifts by foundations, news organizations and individuals committed to journalism's role in fostering an informed and engaged public.
The 2022-2023 Knight-Wallace Fellows and their journalism projects:
Atossa Araxia Abrahamian, an independent journalist who grew up in Geneva, Switzerland, has written and edited extensively about globalization and nationalism for publications including The Nation and The New York Times. She will explore how concepts outside of nationhood are remaking our world. 
María Arce, an Argentinian journalist and multi-platform director for El Vocero in Puerto Rico, has covered hurricanes, earthquakes and major storms for over a decade. She will explore methods to strengthen emergency coverage plans for small newsrooms and proposals to classify journalists as frontline workers. 
Elaine Cromie, a Shimanchu and Puerto Rican photojournalist based in Detroit, is a contributor to publications including The New York Times, The Wall Street Journal and The Washington Post. She will use multimedia storytelling to document efforts to save the indigenous languages of the Shimanchu and Uchinaanchu people native to the islands now called Okinawa. 
Mary Cuddehe, an independent journalist and magazine writer based in Ann Arbor, has reported from Mexico and worked as a mitigation investigator on death penalty cases in the U.S.  She will study the systemic vulnerabilities of storing and sharing medical information in the digital age. 
Orlando de Guzman, is a video journalist and filmmaker based in Ann Arbor whose work has ranged from coverage in the Central African Republic, Brazil and Venezuela to documenting white nationalists converging in Charlottesville in 2017. He will research how sheriffs and county prosecutors participate in criminalization of the poor in the rural Midwest.
Makeda Easter, is a freelance journalist based in Los Angeles where she has covered the intersection of arts and identity. She will build an independent arts media platform dedicated to telling the stories of artists-activists creating change in underreported communities. 
Jarrad Henderson, is an independent filmmaker, educator, and visual journalist based in Washington, D.C., whose compelling storytelling on a variety of social issues at USA Today has won industry accolades. He will focus on taking an innovative and entrepreneurial approach to increasing diversity and equity in visual journalism.
Lindsay Kalter, is an independent health journalist based in Ann Arbor whose work has appeared in The Washington Post, Boston Globe Magazine and POLITICO. Using a blend of hard data analysis and compelling personal portraits, she will investigate the abuse and corruption in facilities meant to treat teens in need of mental health support but end up only further traumatizing them.
Chris Marquette, a congressional ethics and accountability reporter for CQ Roll Call based in Washington D.C., has reported extensively on the U.S. Capitol Police, from its lack of transparency to allegations of misconduct leveled against it. He will research trends in the department's policing practices and explore areas for reform.
Meg Martin, is a freelance editor and a former managing editor for regional news at Minnesota Public Radio. Her work on the "74 Seconds" podcast on the 2016 killing of Philando Castile won her and her colleagues Livingston, Peabody, and Third Coast awards. She will explore how to revamp small and medium-sized news organizations to better support and connect their editors and team leaders to build more agile, sustainable, and equitable newsrooms.
KyeongRak Min,  is a media strategy reporter for Korea's Yonhap News Agency, where he has covered the economy, finance, social affairs and North Korea. He will build on his extensive reporting on Korea's high suicide rate and use a narrative journalism approach to examine the issue as a social phenomenon, including the role Korean media have played in exacerbating the problem.
Antoni Slodkowski, is a Polish journalist based in Tokyo for the Financial Times. He previously spent four years in Myanmar for Reuters as part of the team that won the Pulitzer Prize for its coverage of the ethnic cleansing of the Rohingya. His colleagues Wa Lone and Kyaw Soe Oo were imprisoned by the government as a result of that reporting. He will explore how refugees are using traditional and social media to tell their stories and document the mass migrations of recent years. 
Alexandra Talty, is a multi-media journalist and former Middle East correspondent now based in Southampton, New York. Her reporting on the environment, waterways and climate change has appeared in The New York Times, The Guardian, Outside Magazine, and The Daily Beast, among others. She will examine how the seafood industry, fisheries, and coastal communities are using regenerative practices to supplant lost income and food sources as a result of the climate crisis. 
Asadullah Timory, is an Afghan reporter who worked for The New York Times in western Afghanistan. He was evacuated from the country after it fell to the Taliban in August 2021. He will research the collapse of press freedom in Afghanistan and what awaits displaced Afghan journalists seeking to continue their work in exile. 
Masrat Zahra, is an independent photojournalist and documentary photographer from Indian-administered Kashmir, whose images of human rights violations and everyday hardship have won her international acclaim as well as made her a target of the Indian government. In 2020 she was charged under an anti-terrorism law for posting her photographs on social media. She will research the persecution of Muslims and other minorities in India and the role of the government in violence and polarization.
Read more about the 2022-2023 Knight-Wallace Fellows and their journalism projects »

About Wallace House
Committed to fostering excellence in journalism, Wallace House at the University of Michigan is home to the Knight-Wallace Fellowships, the Livingston Awards and the Wallace House Presents event series, programs that recognize exceptional journalists for their work, leadership and potential.
wallacehouse.umich.edu