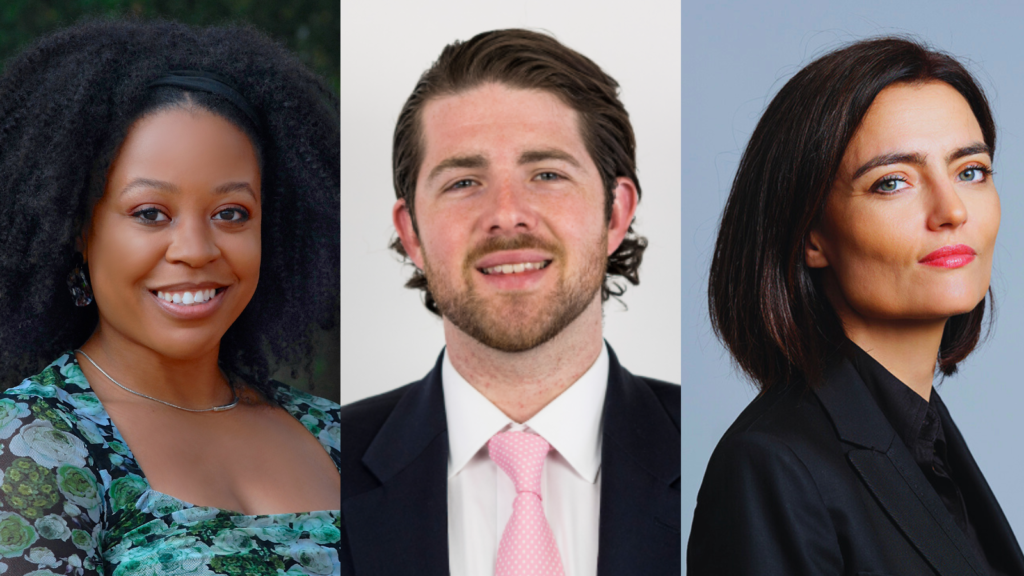 Learn More About the Knight-Wallace Fellowships and Hear from our Alumni.
Are you ready to take the next step in your journalism career with a Knight-Wallace Fellowship? Join our webinar with alumni Makeda Easter '23, Chris Marquette '23 and Elodie Vialle '20 and learn how the fellowship boosted their careers. Hear about their fellowship experiences, ask them your questions, and discover what a year in Ann Arbor at the University of Michigan can do for your life and journalism career.
Noon – 1 p.m. ET | Thursday, November 16.
RSVP here to receive the Zoom link.
About the Speakers
Makeda Easter (2022-2023) is a journalist and creative artist based in Chicago. As a Knight-Wallace Fellow, she deepened and expanded "the art rebellion," an art-reporting project that amplifies the essential role of artists in the U.S. and the stories of artists who fight to improve their communities.
Chris Marquette (2022-2023) is a congressional accountability reporter for CQ Roll Call in Washington, D.C., covering the U.S. Capitol Police and lawmaker transgressions. The Knight-Wallace Fellowship enabled him to complete an in-depth investigative series on trends and practices among the U.S. Capitol Police and potential areas for reform.
Elodie Vialle (2019-2020) is a journalist at the Berkman Klein Center for Internet & Society at Harvard. She is also a Senior Advisor on Digital Safety and Free Expression at PEN America. During her Knight-Wallace Fellowship, she developed safety protocols, programs, and training for journalists facing online attacks.
Knight-Wallace Journalism Fellowship applications for the 2024-2025 academic year are now open.
The deadline for international applicants is December 1, 2023.
The deadline for U.S. applicants is February 1, 2024.