By STEVE FRIESS '12
In a massive events space on University of Michigan's North Campus elegantly arrayed with energetic servers buzzing around, Dave Farrell '93 offered up a worthwhile reminder of how far the Knight-Wallace Fellowships have come.
Today, of course, the program is renowned for its international travel to South America and Turkey, so Farrell wanted to explain to the 400 attendees at an April 15 fête for retiring Director Charles Eisendrath his role in how those exotic trips became a part of the deal.
"Farrell," Eisendrath told the then-Detroit News staffer, "go down to the university transit hut and sign out the biggest van you can find." He did as he was told, returning to the newly acquired Wallace House with a cargo vehicle. A little later, Farrell drove the van "with fellows stuffed in the back" to Detroit.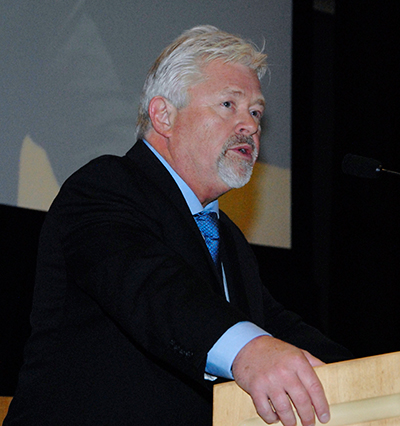 "Our destination was to find a guy who nailed a hubcap to a tree and called it art," Farrell told the audience.
From such humble beginnings, the program swelled along with the prestige of the Livingston Awards, and Eisendrath became an icon of journalism. No explanation was necessary, for example, for the cakes perched as each table's centerpiece coated in white fondant frosting and bedecked by a candy bowtie. Over dinner, university administrators and faculty, former Fellows and other colleagues stretching all the way back to 1970s reminisced and honored the larger-than-life human nucleus of two of the profession's most important programs.
"I have no bleeping idea what course of study Eisendrath pursued," said Charles Wolfson, a Fellow from "CBS News", along with Eisendrath in the class of 1974-75. "I have this vague recollection that Charles spent some time at the School of Natural Resources. Maybe he was on the cutting edge of learning about what we'd come to know as climate change. But he was probably trying to figure out how to grow more cherries per acre on his farm."
Eisendrath, who came to University of Michigan from his job as a foreign correspondent for Time, would never leave. He taught journalism and took over as director of the school's now-gone masters program in 1980. That year  he  also became founding director of the Livingstons.
One of his students, commentator Jack Lessenberry of Michigan Public Radio, recalled Eisendrath's teaching style – which felt familiar to anyone who had been a Fellow. "Charles gave us some simple instructions, threw us in the deep end and expected us to swim on our own," said Lessenberry, head of journalism at Wayne State University.
"In my 20s and not at all sure what I wanted to do with my life, Charles Eisendrath showed me how to be a journalist and taught me the important and most fun profession in the world," he intoned in his signature NPR style. "He did more to shape me professionally than anyone else and has been an important part of my life ever since."
Farrell turned his attentions mostly to recognizing Eisendrath's wife, Julia, whom he described as "the diamond we found in the fellowship year." The "program's first lady," he said, "has the gift of communicating in such a way that makes everyone she talks to feel as though they are the only and the most important person in the world. When you talk to Julia, you know she really listens and when she speaks to you, you know she's speaking from her heart."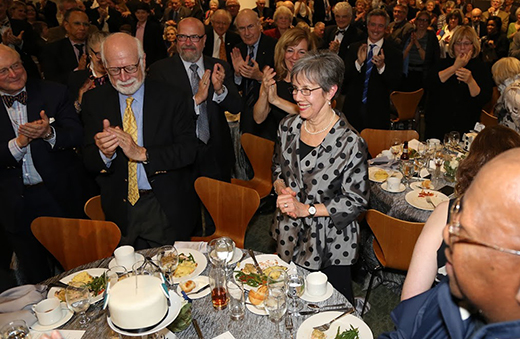 The tributes filled two hours and included testimonials from University of Michigan Provost Martha Pollack, University of Michigan Regent Kathy White, Council of Michigan Foundations CEO Robert Collier, New York Times executive editor Dean Baquet, New Yorker cartoon editor Bob Mankoff, former fellows Tracy Jan '15 and Rachel Dry '13, Wallace House associate director, Birgit Rieck and ragtime pianist extraordinaire Bob Milne, who led the outgoing fellowship class in a rousing original composition called, "The Man in the Hat."
Will Potter, KWF '16, spoke on behalf of the group – Eisendrath's last crop – to explain how an Ann Arbor speakeasy called The Last Word would now offer an honorary drink, the "Thunderous Round," which is made of Traverse City whiskey, cherry liqueur, agave syrup, bitters and "a splash of mediocre sherry." Eisendrath's evaluation of the seminar offering at Wallace House.
To end the festivities, Eisendrath called up each Wallace House staff member to thank them with gifts and praise for their longtime support, and introduced the incoming Wallace House director, Lynette Clemetson. A Fellow in 2009-10 and most recently a senior director at NPR, she donned the chestnut-hued Worth & Worth straw Fedora that he gave her as a "symbol of continuity."
Clemetson used the occasion to announce that the Knight Foundation was pledging $50,000 towards an annual symposium on international journalism at the University in honor of Eisendrath's keenest interest.
"To listen to all you've created, to be the beneficiary of what you've created and know it has strengthened me and my career and enabled things I did after the fellowship … to be able to come back is the greatest honor for the greatest man who has done so much for me," she said to close out the night.