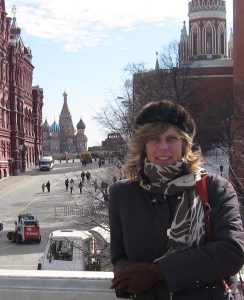 After more than 18 years of helping to create life-changing fellowship experiences for other people, it is high time that our Wallace House Associate Director, Birgit Rieck, gets to experience a fellowship of her own. Birgit has been accepted into the inaugural class of the Media Transformation Challenge, a one-year executive leadership program at Harvard's Kennedy School, designed to help news leaders find creative, sustainable solutions to challenges facing the industry.
For the next year, Birgit will spend one week each quarter in Cambridge with a cohort of news executives working on a focused initiative to help Wallace House move in new directions. The timing for this unique development opportunity is ideal. Wallace House is in an exciting period of growth. Allowing Birgit the space to step away from the busy day-to-day of the Knight-Wallace Fellowships to develop new ideas that will benefit us for years to come.
Birgit's focus during her fellowship year will be examining ways for Wallace House to provide targeted support to journalism initiatives in the Midwest.
"Over 63 million people live in the twelve Midwest states between North Dakota and Ohio but stories from the region seldom make headlines and most midwestern newsrooms continue to shrink or disappear completely. I'd like to find ways Wallace House can specifically support regional journalists and their work. At the same time, I want to explore ideas that would make national audiences more interested in reporting from the Midwest. I am grateful that Lynette supported my application and is giving me the time away to experience a fellowship myself!"
The Media Transformation Challenge, which starts in January 2019, is a new program of the Shorenstein Center on Media, Politics, and Public Policy within the Kennedy School's Executive Education Program. It is directed by Doug Smith, founder and former director of the Punch Sulzberger Executive Leadership Program at Columbia University School of Journalism, and Nicco Mele, director of the Shorenstein Center.
In the quarterly training sessions, Birgit will join her fellowship cohort for coaching and group problem solving, designed to help news leaders drive long-lasting change within their organizations. In the weeks between the group sessions she will spend time researching her study plan, working with her executive coach, and developing her project with the leadership team back at Wallace House.
Please join us in congratulating Birgit and cheering her on as she works to bring the same kind of energy and new ideas back to Wallace House that we send our own Fellows away with each year.
And don't worry… we'll make sure she wears plenty of Wallace House and Michigan gear while she's walking around the campus of that other university. #GoBlue!