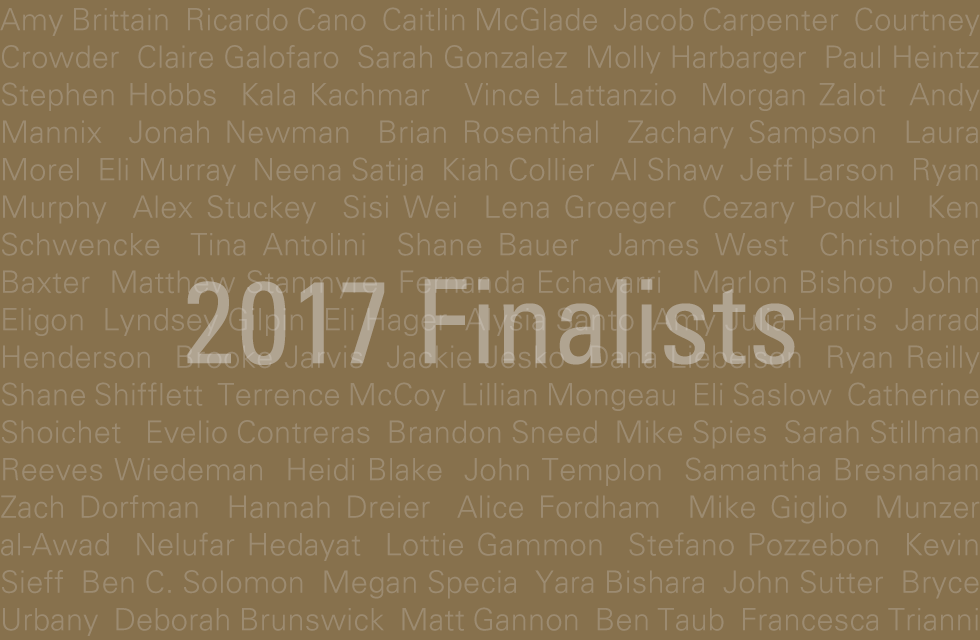 The Livingston Awards for Young Journalists and the University of Michigan announced today the 2017 finalists in local, national and international reporting. The finalists, selected from hundreds of entries, will move to the final round of judging. The awards honor the best reporting and storytelling by journalists under the age of 35 in print, broadcast and digital journalism.
The national judges will introduce the winners on June 6, 2017, at a New York City luncheon.
Funded by the John S. and James L. Knight Foundation and the University of Michigan to support the vital role of a free and independent press, the awards bolster the work of young reporters, create the next generation of journalism leaders and advance civic engagement around powerful storytelling.
"The exceptional quality and range of the finalists is a testament to the vital work journalists are doing every day to foster understanding and accountability locally, nationally and internationally," says Livingston Awards director, Lynette Clemetson.
The Livingston Awards regional judges read all qualifying entries to select the finalists in local, national and international reporting. The regional judging panel includes: Raney Aronson-Rath, executive producer, "Frontline," PBS; Stella Chávez, education reporter, KERA Public Radio (Dallas); Chris Davis, Vice-President of Investigative Journalism, Gannett; David Greene, host, "Morning Edition," NPR; Stephen Henderson, editorial and opinion editor, Detroit Free Press; Shirley Leung, columnist, The Boston Globe; and Amy Silverman, managing editor, Phoenix New Times.
The Livingston Awards national judges review all finalist entries and meet to select the winners. The national judges are Christiane Amanpour, chief international correspondent, CNN; Ken Auletta, author and media and communications writer, The New Yorker; Dean Baquet, executive editor, The New York Times; John Harris, editor-in-chief and co-founder, Politico; Clarence Page, columnist and editorial board member, Chicago Tribune; Anna Quindlen, author; María Elena Salinas, anchor, Univision News; Bret Stephens, op-ed columnist, The New York Times; and Kara Swisher co-founder and executive editor, Recode
Following are the 2017 finalists, for work produced in 2016:
International Reporting:
Heidi Blake and John Templon, BuzzFeed News and BBC
Samantha Bresnahan, CNN
Zach Dorfman, The Atavist Magazine
Hannah Dreier, The Associated Press
Alice Fordham, NPR
Mike Giglio and Munzer al-Awad, BuzzFeed News
Nelufar Hedayat, Lottie Gammon and Stefano Pozzebon, Fusion
Kevin Sieff, The Washington Post
Ben C. Solomon, The New York Times
Megan Specia and Yara Bishara, The New York Times
John Sutter, Bryce Urbany, Deborah Brunswick and Matt Gannon, CNN
Ben Taub, The New Yorker
Francesca Trianni, Time
Elisabeth Zerofsky, Harper's
National Reporting:
Tina Antolini, Gravy Podcast
Shane Bauer and James West, Mother Jones
Christopher Baxter and Matthew Stanmyre, NJ Advance Media (The Star-Ledger/NJ.com)
Fernanda Echavarri and Marlon Bishop, Latino USA/NPR
John Eligon, The New York Times
Lyndsey Gilpin, High Country News
Eli Hager and Alysia Santo, The Marshall Project
Amy Julia Harris, Reveal from The Center for Investigative Reporting
Jarrad Henderson, USA Today
Brooke Jarvis, The California Sunday Magazine
Jackie Jesko, "Nightline," ABC News
Dana Liebelson, Ryan Reilly and Shane Shifflett, The Huffington Post
Terrence McCoy, The Washington Post
Lillian Mongeau, The Hechinger Report
Eli Saslow, The Washington Post
Catherine Shoichet and Evelio Contreras, CNN
Brandon Sneed, Bleacher Report
Mike Spies, The Trace
Sarah Stillman, The New Yorker
Reeves Wiedeman, New York Magazine
Local Reporting:
Amy Brittain, The Washington Post
Ricardo Cano and Caitlin McGlade, The Arizona Republic
Jacob Carpenter, Naples Daily News
Courtney Crowder, The Des Moines Register
Claire Galofaro, The Associated Press
Sarah Gonzalez, WNYC
Molly Harbarger, The Oregonian/OregonLive
Paul Heintz, Seven Days
Stephen Hobbs, Sun-Sentinel (Ft. Lauderdale, Fla.)
Kala Kachmar, Asbury Park Press
Vince Lattanzio and Morgan Zalot, NBC10 Philadelphia (WCAU)
Andy Mannix, Star Tribune (Minneapolis, Minn.
Jonah Newman, The Chicago Reporter
Brian Rosenthal, Houston Chronicle
Zachary Sampson, Laura Morel and Eli Murray, Tampa Bay Times
Neena Satija, Kiah Collier, Al Shaw, Jeff Larson and Ryan Murphy, ProPublica and The Texas Tribune;
Alex Stuckey, The Salt Lake Tribune
Sisi Wei, Lena Groeger, Cezary Podkul and Ken Schwencke, ProPublica