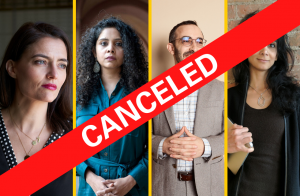 "Online Harassment: A Threat to Democracy"
The Eisendrath Symposium with Elodie Vialle, Rana Ayyub, Jason Reich and moderator Roya Ensafi
March 24, 2020 | 4:30 p.m.
Rackham Amphitheatre
915 E Washington St, Ann Arbor, MI 48109
THIS EVENT HAS BEEN CANCELED
About the Event
Online trolls target journalists with such frequency and intensity that 90 percent of reporters say online harassment has become their biggest safety concern, according to a study by the Committee to Protect Journalists. The perpetrators range from lone-wolf digital stalkers to synchronized armies of online mercenaries set in motion by political actors. They have turned social media platforms into battlefields filled with verbal weaponry meant to intimidate and silence journalists. The threats toward female journalists are particularly vicious and dangerous. A recent study by the International Women Media Foundation found that online harassment has prompted many women journalists to consider leaving the profession.
What can be done to track and counter the hate?
Wallace House Presents a conversation with Rana Ayyub, award-winning investigative journalist based in Mumbai, Elodie Vialle, a Knight-Wallace Fellow and authority on internet harassment and attacks against female journalists and Jason Reich, Vice President of Corporate Security for The New York Times Company. Roya Ensafi, founder of Censored Planet and assistant professor of Computer Science and Engineering at the University of Michigan, will serve as moderator.
About the Speakers
Rana Ayyub is an award-winning investigative journalist based in Mumbai. A political writer and an important voice from South Asia, she is a Global Opinions contributor to The Washington Post. Her work has appeared in the The New York Times, The Guardian and Foreign Policy among other publications. She has reported on religious violence, insurgency and extrajudicial killings by the state and is author of the "Gujarat Files: Anatomy of a Cover-Up," an undercover investigation exposing the complicity of Indian Prime Minister Narendra Modi in state-sponsored killings. Time magazine this year listed Ayyub among ten global journalists facing the most urgent threats to their work, freedom and safety.
Elodie Vialle is a Knight-Wallace Fellow at the University of Michigan, where she is studying methods and best practices for countering online attacks of female journalists. She was previously the Head of the Technology desk at Reporters without Borders. Her work focused on topics such as online censorship, surveillance, disinformation and the impact of artificial intelligence on freedom of information and internet governance. Vialle has worked as an advisor for media outlets around the world, helping them to improve news coverage through the use of new technologies.
Jason Reich is Vice President of Corporate Security for The New York Times Company. He is responsible for the development and enforcement of all safety and security plans for employees and facilities while serving as the company's internal expert on all security matters. He joined The Times from BuzzFeed, Inc. where he served as Director of Global Security since 2015. Prior to BuzzFeed, Jason was the founder and managing director of Collective Security Project, a team of crisis response experts, based in the United Kingdom, Turkey and the U.S., who were contracted to protect journalists, aid workers and N.G.O's in challenging environments. Reich is a founding board member at the ACOS Alliance and is a passionate advocate for freelance journalist safety worldwide.
Moderator
Roya Ensafi is an assistant professor of Computer Science and Engineering at the University of Michigan. Her research focuses on security and privacy, with an emphasis on designing techniques and systems to protect users from adversarial networks. She founded and directs Censored Planet at the University of Michigan. The research lab investigates privacy and security violations on the internet.
Free and open to the public.
This event is produced with support from the John S. and James L. Knight Foundation.
Michigan Radio is a co-sponsor of the event.