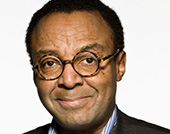 Columnist and Editorial Board Member, Chicago Tribune
National Judge
At 17 and not yet out of Middletown (OH) High, Clarence Page made his talents available to American journalism. The Middletown Journal and Cincinnati Enquirer took him on as a freelance writer and photographer. In addition to staff assignments with the Chicago Tribune and a column nationally syndicated to more than 120 newspapers, Page has kept his hand in freelancing ever since.
His book of autobiographical essays on race relations, titled "Showing My Color," was published in 1996. He was a regular panelist on the PBS series, "The McLaughlin Group." He contributes essays to "PBS NewsHour," and commentary to "News and Notes with Ed Gordon" on National Public Radio. His articles have been published by The New Republic, New York Newsday, and The Wall Street Journal.
Page joined the Tribune in 1969, working as a reporter and assistant city editor until 1980, when he left to spend four years as a reporter and director of WBBM-TV's Community Affairs Department. He returned to the Tribune as a member of the editorial board and columnist, and won a Pulitzer Prize for commentary in 1989.
Page was born in Dayton, graduated from Ohio University in 1969, and received an honorary degree from his alma mater in 1993.
He is married to Lisa Page, a creative writing professor at George Washington University. They have one son and live in Washington, D.C.