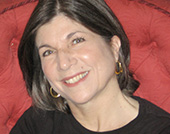 Author
National Judge
Anna Quindlen's career as a journalist, columnist, best-selling author and novelist has spanned over 40 years. It began after she graduated from Barnard College in 1974 and took her first job as a reporter at The New York Post. Three years later she moved to The New York Times and during her 18 years at the paper held several posts including deputy metropolitan editor. Quindlen became a Livingston Awards judge in 2008.
She became the third woman in Times history to write a regular column for its influential Op-Ed page with the 1990 launch of the nationally syndicated "Public and Private" column. In 1992 she was awarded the Pulitzer Prize for Commentary.
She joined Newsweek in 1999 as a contributing editor, succeeding the late Meg Greenfield. Her column, "The Last Word," appeared every other week on the magazine's back page until 2009.
Quindlen has published several nonfiction books, including three collections of her columns, "Living Out Loud," "Thinking Out Loud" and "Loud and Clear." She has also authored eight best-selling novels. Her ninth novel, "Alternate Side," was published in 2018.
She is a fellow of the American Academy of Arts and Sciences and holds honorary degrees from more than twenty American colleges and universities.