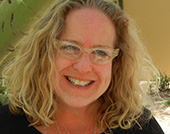 Managing Editor, Phoenix New Times
Regional Judge
Amy Silverman is managing editor at Phoenix New Times, published by Voice Media Group. She joined the paper as a staff writer in 1993, covering Arizona politics, most notably the career of U.S. Senator John McCain. She has won several national awards and has twice been named Journalist of the Year by the Arizona Press Club, for her reporting on McCain and the juvenile corrections system in Arizona. In 2003, Silverman became an editor. She worked closely with the young writers who won Livingston Awards in 2008 and 2010.
Silverman's work has also appeared on "This American Life" and in publications such as The New York Times, The Washington Post, Lenny Letter, and Brain, Child. She is a regular commentator for the local National Public Radio affiliate in Phoenix. Her first book, "My Heart Can't Even Believe It: A Story of Science, Love, and Down Syndrome," was published in 2016 by Woodbine House.
A Phoenix native, Silverman has a bachelor's degree in American Studies from Scripps College in Claremont, California, and a master's degree from Columbia University's School of Journalism. She lives in Tempe, Arizona, with her husband Ray Stern, a New Times staff writer, and their two daughters.