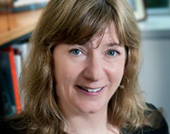 Special counsel to the president, University of Michigan
As Special Counsel, Liz Barry serves as advisor and strategic partner to the president of the University of Michigan. She oversees a variety of ongoing presidential initiatives as well as getting involved in high priority projects and issues as they arise. During her tenure in the President's office, Barry has had significant involvement with the 2014 presidential transition; the University's Strategic Plan for Diversity, Equity & Inclusion; the Biosciences Initiative and the University's 2017 Bicentennial.
Prior to joining the office in August 2013, Barry served for 12 years as the managing director of the Life Sciences Institute working closely with the director and faculty on operational and strategic matters. She created and taught an interdisciplinary graduate course based in the Ross School entitled, "The Business of Biology."
Barry served as the University's Interim Co-General Counsel and then Associate Vice President and Deputy General Counsel from 1997 to 2002 taking the lead in-house role on the University's defense of its affirmative action policies. Prior to coming to Michigan, she served as University Attorney at Harvard and was in private practice at Ropes & Gray in Boston.