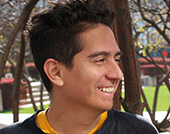 Author, co-founder and executive producer, Radio Ambulante
Daniel Alarcón is co-founder and executive producer of Radio Ambulante, a Spanish-language podcast distributed by NPR, that tells Latin American stories from anywhere Spanish is spoken. He is a 2021 MacArthur Fellow.
Alarcón is author of "The King is Always Above the People," which was longlisted for the 2017 National Book Award for Fiction and "At Night We Walk in Circles," a finalist for the 2014 PEN/Faulkner Award, as well as the story collection "War by Candlelight," the novel "Lost City Radio," and the graphic novel "City of Clowns."
His writing has appeared in The New Yorker, The New York Times Magazine, Granta, n+1 and Harper's. He was named one of The New Yorker's "20 Under 40," the publication's list of fiction writers worth watching.
Alarcón is an assistant professor of broadcast journalism at Columbia University School of Journalism.